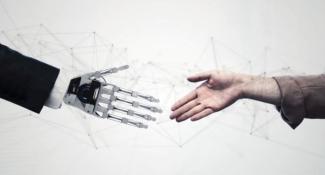 From AI to Real Connection: Say Goodbye to Robots and Hello to Your Trusted Advisor
We've all heard about the scary future where robots rule. We've seen it in books and movies—robots becoming smarter than us and humans becoming less important. As AI (artificial intelligence) and robo-advisors become more common, it's tempting to rely on robots for our decisions. But what if you face a personal problem or something new happens in the economy? These are situations where having a reliable financial advisor is important. Read on to hear the many advantages of having a human financial advisor compared to using a robo-advisor.
Expertise
Robo-advisors are helpful when you're just starting your financial journey and have smaller balances to manage. Since there are often fewer fees with a robo-advisor, it's a good fit for beginners. However, if you've been letting your robo-advisor run the show for a few years while your finances have grown and become more complex, it might be time to upgrade to a human financial advisor. 
These are certified professionals with years of expertise in a wide variety of financial situations. Financial advisors are trained to help clients manage their finances and pursue their money goals. They stay up to date on the latest financial news and trends, which can help you receive the most current and relevant advice. No matter what's happening in the markets or in your accounts, your financial advisor is equipped to develop the plan you need to pursue your financial goals with confidence. 
Personalized Advice
The help of a robo-advisor is limited to its algorithm or the lines of code it uses to make decisions; and it only makes decisions with the basic information you provide. Data such as your risk tolerance, investment amount, and time horizon are used to calculate the best investments for you. Again, great for beginners. 
When life gets more complex, you need financial advice that's customized to your specific situation. A financial advisor takes a holistic approach to managing your money by reviewing your situation in greater detail. They get to know you, not just the numbers. They help you identify areas of improvement and find ways to solve your biggest financial issues. 
A financial advisor is there to help you lay out a plan toward your financial goals too. A human advisor might help you strategize how you can retire early, how to expand your small business, or how to pay for your child's college tuition.
Emotional Support
Finances are usually seen as a more logical topic, but emotions are deeply connected to your financial situation in ways you might not have considered. During times of economic uncertainty, you might feel scared, stressed, or concerned. When things are going extremely well, you might feel overjoyed, carefree, or impulsive. These emotions affect your ability to make wise financial and investment decisions. 
A trustworthy human financial advisor guides you through those decisions with greater clarity. Instead of letting your emotions run the show, advisors look at your situation objectively to help you make an informed decision even in challenging moments.  
Accountability
If you've had trouble sticking to your financial plan before, a financial advisor could provide the accountability you need. Financial advisors and planners can help you create a budget, track your expenses, and monitor your progress toward your financial goals.
They'll also help you keep those end goals in mind when you consider the other financial decisions you want to make. If your goal is to buy a home, your financial advisor might remind you of that when you want to purchase a new Rolex. 
Get the Human Touch
Basic money matters might be okay for a robo-advisor, but when you require more than just automated investment choices, that's the moment to reach out to a financial advisor. These professionals create tailor-made strategies that match your unique goals and specific financial position. 
If you're prepared to partner with a financial advisor who sees beyond the numbers, our team (of humans!) at The Rosamond Financial Group is ready to assist. Connect with us by calling my office at 830-798-9400 or emailing solutions@rosamondfinancialgroup.com. See what clients are saying about working with us.
About Preston
Preston Rosamond is a financial advisor and the founder of The Rosamond Financial Group Wealth Management, LLC with over two decades of industry experience. He provides comprehensive wealth management and financial services to successful business owners, corporate executives, and affluent retirees who enjoy simplicity and seek a professional to help them pursue their goals. Preston personally serves his clients with an individual touch, a sincere heart, and his servant's attitude is evident from the moment you meet him. Learn more about Preston or start the conversation about your finances with him by emailing solutions@rosamondfinancialgroup.com or schedule a call on his online calendar.