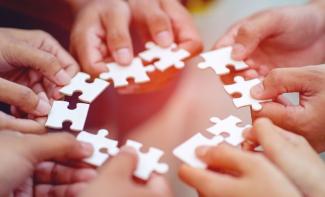 The Rosamond Financial Group is built on a solid foundation of exceptional customer service and in-depth market knowledge. By serving our clients, our team members, and our community with a Christ-centered heart, we enrich the lives of others. We provide clients the highest level of service through rapid response to any issue, proactive client service, and multi-generational planning.
As a full-service financial planning and investment advisory firm, we specialize in total asset management: investment planning, retirement forecasts, insurance evaluation, tax development plans, and education planning. No matter your financial needs, our all-star team can help you travel the road and arrive in good condition. 
Simply put, we strive to be our clients' trusted advisor. And as in any relationship, getting to know one another helps build that trust, so we'd like to take this opportunity to introduce each team member and the role they play in our success.
Preston Rosamond, Founder and Financial Advisor
A native Texan, growing up on a working cattle ranch taught Preston the value of hard work, diversification, market cycles, and the discipline of a long-term approach to investing. Preston has 20-plus years of experience in the financial services industry.
Shelli Rosamond, Director of Leadership
Shelli has over 30 years of experience in technology, association/non-profit management, and education. Her previous roles include Dell Technologies (Accounting), CMP Management (Association & Event Management), and Leander ISD (first-grade teacher).
Cynthia Segovia, Director of Client Solutions
Cynthia has several years' of experience in the financial service industry and 20 years' experience in providing high-level customer service. Cynthia strives to build strong client relationships. Her previous role includes finance manager, accounting, and sales.
Rhonda Lutzke, Director of Implementation
Rhonda has extensive executive leadership in the financial service and communications industry. Her previous roles include vice president for product development and area president for Frontier Communications, a Fortune 500 company.
Karen NeSmith, Director of Client Service
Karen has 20 years' of experience in the financial services industry helping deliver excellent client service.
Raymond Sikora, ChFC, CLU, Director of Financial Planning
With more than 30 years of financial data analysis and planning experience in the financial services industry, Raymond brings a wealth of knowledge and experience to our team.
Heidi Wilson, Director of Growth & Marketing
Heidi is responsible for our website and social media accounts. With over 30 years of broad-based consumer and B2B marketing experience, she helps us streamline our marketing efforts.
Let's Connect Today!
At The Rosamond Financial Group, we are dedicated to professionally supporting, educating, and providing informed direction to each and every client. We want to minimize your stress and leave you with more time for what you love. And just as we fit together the pieces of your financial puzzle, each team member plays an integral part in our firm's success.
If you have any questions, don't hesitate to get in touch. Call my office at 830-798-9400 or email solutions@rosamondfinancialgroup.com. See what clients are saying about working with us.
 
About Preston
Preston Rosamond is a financial advisor and the founder of The Rosamond Financial Group Wealth Management, LLC with over two decades of industry experience. He provides comprehensive wealth management and financial services to successful business owners, corporate executives, and affluent retirees who enjoy simplicity and seek a professional to help them pursue their goals. Preston personally serves his clients with an individual touch, a sincere heart, and his servant's attitude is evident from the moment you meet him. Learn more about Preston or start the conversation about your finances with him by emailing solutions@rosamondfinancialgroup.com or schedule a call on his online calendar.