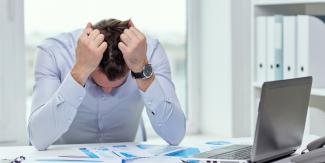 Worried About Your Financial Plan? Schedule A Q&A Call Today
By Preston Rosamond
2020 is finally behind us and 2021 is well underway. But the COVID-19 pandemic and its far-reaching implications still disrupts daily life across the globe. Although resilient Americans have adjusted and adapted to these uncertain times, there's no end in sight to the increased stress you've likely been experiencing over the last year. 
There's still a lot to lose sleep over: the off-and-on shutdowns and quarantines; job and business uncertainty; concern for our own health as well as those of our loved ones; and apprehension about the markets and the economy. We at The Rosamond Financial Group firmly believe that no matter how tough times are, there is one thing that should not cause you worry: your financial plan. 
Choose To Prepare Rather Than Worry
The purpose of having a financial plan is so you can experience confidence and be ready when chaos comes. Taking the intentional steps of examining your life situation, identifying your goals, and mapping out the path to achieve them brings confidence and gives you a financial future to look forward to. 
If you aren't sure if your plan is set up to withstand our current economic circumstances or you are wondering if you need to make any changes to weather this storm better, we are here to help you thrive.
Meet With Us Virtually!
In the midst of stressful and uncertain circumstances, it's vital to remember that you're not alone. The Rosamond Financial Group is here to help. Our number-one priority is to guide you through this current storm (and prepare for whatever storms lie ahead), so you can get back to living your life today rather than worrying about tomorrow.  
We invite you to connect with us so we can answer your questions and address your concerns about your money, your goals, asset allocation, risk, what the markets are doing—whatever is keeping you up at night. Call my office at 830-798-9400 or email smrosamond@rosamondfinancialgroup.com to schedule your Q&A call today.
About Preston
Preston Rosamond is a financial advisor and the founder of The Rosamond Financial Group Wealth Management, LLC with nearly two decades of industry experience. He provides comprehensive wealth management and financial services to individuals, professionals, and families who enjoy simplicity and seek a professional to help them pursue their goals. Preston personally serves his clients with an individual touch and a sincere heart, and his servant's attitude is evident from the moment you meet him. Learn more about Preston or start the conversation about your finances with him by emailing smrosamond@rosamondfinancialgroup.com or schedule a call with our online calendar.