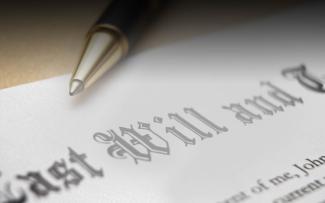 By Preston Rosamond 
I get it. Making decisions about what's going to happen after we're gone is not fun, which makes it easy to push further down the to-do list. Most people understand the importance of having a will, but unfortunately, many don't take the time to write one. If you keep putting off creating a will for yourself, I want to remind you this crucial document is worth the effort. After all, providing a clear map for carrying out your wishes is one way to show love and care for your loved ones.
Let's discuss 3 big reasons why it's so important to make your plan official. 
1. To Have A Say In What's Important To You
Depending on the season of life you are in and your financial situation, deciding who gets what and who is given certain responsibilities could require a lot of thought. However, if you don't make a will, the government will choose what to do with what you leave behind, and how this happens varies from state to state. Needless to say, you want to make these decisions, not them! Let's separate this into categories so it's easier to process.
Custody Of Children
Make sure you have talked with the people you want to be the caregivers of your children and have that written down so it can be legally enforced. If you are leaving money to anyone who is underage, you need to also determine who is going to handle the money you leave to them until they can make those decisions themselves.
Who Inherits Which Assets
First, think of all your assets. This could include real estate, money in retirement accounts, stocks, vehicles, jewelry, higher-ticket items in your house, or family heirlooms. Whatever you have, be detailed about how you want these assets divided.
Charitable Donations
If you want to make sure some of your wealth is left to causes you care about, that needs to be outlined in your will. Making arrangements now for your philanthropic initiatives can oftentimes provide those charities with even more resources and save you money on taxes at the same time. This leads us to another reason why it's important to create a will sooner rather than later!
2. To Protect Your Wealth From Taxes
You've worked too hard to let your wealth be eaten away by taxes. By planning now, you can ensure you take advantage of as many tax-efficient strategies for your estate as possible.
Here are a couple of options for you to discuss with a trusted financial planner that could provide more savings or tax benefits:
Determine the best option for your situation: a living trust or a will? Depending on the size of your estate and assets, there could be significant tax advantages on the federal and state level for creating a living trust instead of a will.
Set up a donor-advised fund for charities you want to support. Creating and funding a donor-advised fund gives you a tax deduction immediately and allows that money to grow tax-free for the charity of your choice. (1) You can choose to either have this fund continue after you die or to have the funds distributed upon your passing. 
3. To Prevent Headaches For Your Loved Ones
Maybe you have already experienced this yourself, but when someone passes away, the last thing you want to deal with is ambiguity, probate, and having to make decisions that person should have made themselves.
You have done the hard work of providing for your family and leaving them in a place of financial stability. Now it's time to bless them with not only money, assets, or items, but also a smooth transition in the midst of grief.
Do You Need Help Creating A Will?
If you don't have a will (or if your current will needs updating), now is the time to verify everyone is on the same page and make it official. Those close to you will be thankful you made it a priority. 
We know this can feel like an overwhelming task (which is likely why you've been putting it off). So rather than tackling it alone, allow our team at The Rosamond Financial Group to help! We are a comprehensive financial planning practice that provides estate planning services, coordinating with you, your family, and other professionals to make sure your will is designed well, communicated well, and all your legal and financial needs align. Call our office at 830-798-9400 or email smrosamond@rosamondfinancialgroup.com to get started today!
About Preston
Preston Rosamond is a financial advisor and the founder of The Rosamond Financial Group Wealth Management, LLC with nearly two decades of industry experience. He provides comprehensive wealth management and financial services to individuals, professionals, and families who enjoy simplicity and seek a professional to help them pursue their goals. Preston personally serves his clients with an individual touch and a sincere heart, and his servant's attitude is evident from the moment you meet him. Learn more about Preston or start the conversation about your finances with him by emailing smrosamond@rosamondfinancialgroup.com or schedule a call with our online calendar.
_____________
(1) https://www.fidelitycharitable.org/guidance/philanthropy/what-is-a-donor-advised-fund.html?immid=PCD&engine=GOOGLE&campaign=Donor+Advised+Primer&adgroup=Donor+Advised&keyword=Donor+Advised+fund&gclid=CjwKCAjw7LX0BRBiEiwA__gNwyBFlhCU4m9Gidf9VoJ3pddfYt5MN-UPcJYw_NLuOmoQTmEJcGX8lhoCAEQQAvD_BwE&gclsrc=aw.ds