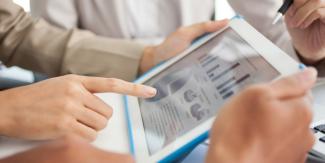 Why I Became a Financial Advisor
People often ask me why I entered this industry and became a financial advisor. Like many people, I didn't grow up knowing what I wanted to be or what I wanted to do with my career. What I did know is I liked the idea of working with people, building long-term professional relationships, and helping them solve their problems.
As a native Texan, I grew up on a working cattle ranch. My experiences taught me early on the value of hard work, discipline, and a long-term approach I could apply to investment management and financial planning.
During my school years, I developed a strong interest in finance and investments. I was always good at math, and my college years allowed me to discover how I could make a career out of my talent for finance and my desire to help people.
After college, my love and passion for helping people inspired me to enter the financial services industry, and the rest is, as they say, history.
My Role as an Advisor
I've always believed in the importance of serving clients on a very personal level, working one-on-one with them and offering individualized strategies rather than cookie cutter solutions. I believed the best way I could do this was by creating my own independent firm where I could work closely with my clients and offer them a high level of service and trusted advice.
In 2009, I founded my firm, The Rosamond Financial Group, a full service financial planning and investment advisory firm specializing in total asset management. Whatever my client's specific needs and services, my goal is to help people travel along their financial path and arrive in good condition by providing a solid foundation of exceptional customer service and in-depth market knowledge. I hope to serve all of my clients as their most trusted advisor.
The Hurdles and the Triumphs
Working as a financial advisor certainly comes with its challenges. Most of the instruments I deal with are very long-term, so it takes time for them to fully work properly in a long term plan. With a never-ending news cycle and attention-grabbing headlines, it's easy for clients to feel overwhelmed with so much information. They can get caught in the cycle of looking at the short-term picture of day-to-day strategizing rather than a long-term, decade-to-decade approach.
Additionally, it can be difficult to manage my clients' emotions so they can separate them from investing and look beyond the news headlines in order to focus on what they can control. It can take some time for clients to ignore the media noise and focus on their individual needs and goals. Especially in a bear market or at the end of a bull market, people can become emotional and can exhibit behavior that ends up derailing them from pursuing their long-term goals and ideal outcomes.
Despite the challenges, I can't imagine having any other career. For me, there's nothing more fulfilling than helping people pursue their ideal outcomes in life. Many of my clients tell me that working with me has helped them worry less about their finances. Having fewer concerns and less stress in their lives allows them to enjoy their passions in life and spend more time on their family and loved ones.
Meeting with clients and reviewing the progress they are making and hearing them verbalize the true value of what I do is very fulfilling to me and motivates me to help more people. Ultimately, I'm driven in my career by my faith, my family, and the joy of helping people. I truly love working with people, and not many careers offer people the chance to make an impact on so many people's lives. It's very rewarding for me.
Taking the First Steps
To get started, I suggest you take the time to meet with me. You can learn how I may be able to help personalize a financial planning strategy and guide you through many available options that are designed to help you reach your unique financial goals. There is never a fee, charge, or obligation for your first meeting. Call my office at 830-798-9400 or email clientservice@rosamondfinancialgroup.com.
About Preston
Preston Rosamond is a financial advisor and the founder of The Rosamond Financial Group with nearly two decades of industry experience. He provides comprehensive wealth management and financial services to individuals, professionals, and families who enjoy simplicity and seek a professional to help them pursue their goals. Preston personally serves his clients with an individual touch and a sincere heart, and his servant's attitude is evident from the moment you meet him. Learn more about Preston or start the conversation about your finances with him by emailing clientservice@rosamondfinancialgroup.com.