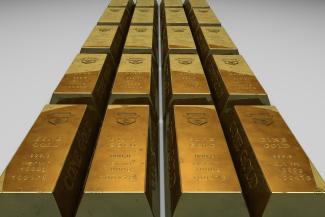 Why Do People Really Buy Gold And What Are The Alternatives?
By Preston Rosamond
Gold has a multitude of special characteristics: it conducts electricity, doesn't tarnish, is very easy to work, and has a great color and a brilliant luster—just to name a few. Gold can also be a useful tool for diversification. But do the positives outweigh the negatives?
Gold has been used for centuries for many purposes, including preserving wealth and hedging against weak currencies and economies and inflation. The price of gold tends to move in the inverse direction of economies. During the inflationary period of the late 1970s and the Great Recession of 2008, the price of gold skyrocketed, and people rushed to purchase the commodity. We've also seen an uptick in gold during the COVID-19 pandemic, with its price reaching an all-time high this past summer. (1)
Impracticality Of Gold
But before you build a vault to store all of your gold bullion, let's look at some of the reasons why gold is not a practical asset to own and dive into some of the alternatives. Purchasing physical gold involves dealing with brokers and negotiating prices, transporting the bars or coins, storing them, and then going through the whole process again if you want to sell them. It's unrealistic for the average consumer to purchase gold. 
Gold ETFs 
An alternative to purchasing physical gold is gold ETFs. SPDR Gold Trust and iShares Gold Trust do all the work for you. These liquid investments are traded on the stock exchange, and you are purchasing the gold value in a trust, not physical gold. It's a good way to dip your toe into the commodity water, but beware, capital gains are taxed as collectibles at ordinary income rates as much as 28%. (2)
Gold And The S&P 500
You can also buy shares in gold mining companies such as Newmont, Wheaton Precious Metals, and Barrick Gold. Never heard of these companies? Of the three, Newmont is the only Fortune 500 company listed. The metals and mining industry makes up a small portion of the S&P 500. Metals and mining fall under the materials industry in the S&P and make up a mere 2.56% of the index. Of that small percentage, gold makes up 8.02%. (3) If you own an ETF in your portfolio that tracks the S&P 500, you already have exposure to gold and the mining industry.
Even though gold may seem like a sure thing because of its stored value, it has only risen by an average of 1.1% a year during the last century; compare that to 6.5% for stocks. (4) The numbers speak for themselves.
The Bottom Line
There's no denying the beauty of gold jewelry, but buying physical gold as an asset is impractical due to challenges with transportation, storage, and negotiating. Buying gold mining stocks is like owning any other stock; it's based on the fundamentals of the company, not just the output. While gold ETFs are a better alternative, beware of taxes and having too much of a concentration in one asset, especially considering you may have exposure if you have investments that track the S&P 500. 
As with any major investment decision, it's wise to consult your financial advisor. We at The Rosamond Financial Group are here to walk you through the pros and cons of owning commodities and would be happy to discuss how gold can be a part of your portfolio. Call my office at 830-798-9400 or email smrosamond@rosamondfinancialgroup.com to set up a meeting today.
About Preston
Preston Rosamond is a financial advisor and the founder of The Rosamond Financial Group Wealth Management, LLC with nearly two decades of industry experience. He provides comprehensive wealth management and financial services to individuals, professionals, and families who enjoy simplicity and seek a professional to help them pursue their goals. Preston personally serves his clients with an individual touch and a sincere heart, and his servant's attitude is evident from the moment you meet him. Learn more about Preston or start the conversation about your finances with him by emailing smrosamond@rosamondfinancialgroup.com or schedule a call with our online calendar.
__________
(1) https://www.cbsnews.com/news/gold-price-all-time-high-coronavirus-recovery/
(2) https://www.fool.com/investing/2020/07/24/thinking-about-buying-gold-consider-these-alternat.aspx
(3) https://advisor.visualcapitalist.com/sp-500-sectors-and-industries/
(4) https://www.nytimes.com/2020/08/08/opinion/gold-investment-coronavirus.html