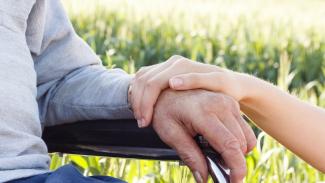 What You Need to Know About Alzheimer's and Financial Planning
By Preston Rosamond
Wendy Mitchell, author of the extraordinary Alzheimer's memoir Somebody I Used to Know, said, "Why feel ashamed of having a complex brain disease? People are afraid to talk about it." It's true that a devastating Alzheimer's diagnosis can bring about a range of emotions for both patients and their loved ones. From this point forward, financial planning is essential to ensure proper care, protection, and comfort. During this difficult time, we at The Rosamond Financial Group want to reassure you that good financial planning now will help give you peace of mind for the future.
Types of Alzheimer's Care
The type of care an Alzheimer's patient will need depends on both the progression of the disease and the abilities of family or friends to assist with personal care. Although everyone's situation is different, most Alzheimer's patients will need to plan for:
Ongoing medical care to help treat symptoms and track the progression of the disease
Safety devices such as home safety modifications or services
Prescription medications
Personal care needs
As the disease advances to more severe stages, Alzheimer's patients will eventually no longer be able to drive themselves to medical appointments or the grocery store, and should not be left alone for long periods of time. Depending on how much care loved ones can assist with, patients may need adult day care, in-home care services, and eventually full-time residential care.
Costs of Alzheimer's Care
As you can imagine, the costs of these different needs and types of care can add up quickly, which is one reason why it's important to develop a financial plan as soon as a diagnosis is made. A good financial plan increases the likelihood that an Alzheimer's patient can continue to live comfortably as the disease progresses. And creating the financial plan early ensures the patient has control over what decisions are made.
Long-term care planning differs from Alzheimer's care planning because long-term care is based on unknown scenarios. With Alzheimer's care, you know more about what to expect. The projected life expectancy for a patient diagnosed with Alzheimer's is 3-11 years, but some patients can live for 20 years or more. (1) Care costs vary by location and the type of care needed, but average life expectancies provide clarity on the amount of time you may need to plan for. 
For example, the cost of an assisted living facility in Texas for 40 hours a week may cost almost $48,000 a year, while a private room in a residential nursing home in the same area could cost over $80,000 a year. (2) To project costs in your specific area, you can use this Cost of Care Calculator from Genworth, which also allows you to project how costs will rise in the future based on inflation.
Planning for Alzheimer's Care Costs
Unfortunately, Medicare does not cover ongoing care, so it is not an option to consider when determining how to pay for Alzheimer's care costs. Additionally, a long-term care insurance policy cannot be purchased after an Alzheimer's diagnosis, so unless you or your loved one has purchased long-term care insurance prior to diagnosis, insurance is not an option either.
Fortunately, you have other choices. An expert financial planner can help you navigate the Medicaid and Social Security options available to you and help you structure your investments and manage your cash flow to adjust to these new necessities.
Trusted Partnerships
Although it may be tempting to keep an Alzheimer's diagnosis to yourself, it's important to not walk this journey alone. Reaching out to trusted family members or close friends can not only prevent you from feeling isolated, but they can help relieve the burden, make tough decisions, and ensure your plans are followed when you eventually need more assistance. 
It's also wise to consider partnering with a financial expert that can help you navigate these new challenges. The Rosamond Financial Group is dedicated to professionally supporting, educating, and providing informed direction as we help you plan for difficult times and make the final years of your life as comfortable and secure as possible. Call my office at 830-798-9400 or email smrosamond@rosamondfinancialgroup.com. 
About Preston
Preston Rosamond is a financial advisor and the founder of The Rosamond Financial Group Wealth Management, LLC with nearly two decades of industry experience. He provides comprehensive wealth management and financial services to individuals, professionals, and families who enjoy simplicity and seek a professional to help them pursue their goals. Preston personally serves his clients with an individual touch, a sincere heart, and his servant's attitude is evident from the moment you meet him. Learn more about Preston or start the conversation about your finances with him by emailing smrosamond@rosamondfinancialgroup.com or schedule a call with our online calendar.
_____________
(1) https://www.mayoclinic.org/diseases-conditions/alzheimers-disease/in-depth/alzheimers-stages/art-20048448#:~:text=The%20rate%20of%20progression%20for,diagnosis%20can%20affect%20life%20expectancy 
(2) https://www.genworth.com/aging-and-you/finances/cost-of-care.html