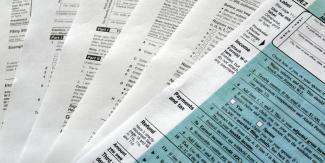 What You Need To Do To Prepare For Tax Season
By Preston Rosamond
The 2020 tax filing season has officially begun and the IRS is now accepting 2019 tax returns. Here is what you can do to prepare for this tax season.
Gather Your Important Information & Tax Documents
For about a month, you have probably been receiving tax documents in the mail that you've simply been throwing in a pile. Now is the time to gather them together and organize them. You may have documents such as:
Form W-2: These are issued by employers and show your wages and tax withholdings. They are supposed to be mailed by January 31.
Form 1099-MISC: These report income you have received as an independent contractor or freelancer. You should receive one from each person or company that pays you.
Form 1099-INT: This form will show any interest you have earned.
Form 1099-R: This form reports income received from annuities, IRAs, or pensions.
Form 1099-DIV: Any dividend income you earn is reported on this form.
Form 1099-B or 1099-S: You will receive these if you have any income from the sale of property or stock.
Form 1098: You will get this from your mortgage company reporting the interest that you paid.
Form 1098-T: This reports payments of qualified tuition and expenses.
Form 1095-A or 1095-C: These forms report your healthcare coverage for the year and your premium tax credit, if applicable.
In addition to your tax forms, make sure you have all of your and your dependents' personal information available. You will need things like Social Security numbers and dates of birth. Also, if you itemize your deductions, start gathering your receipts for healthcare expenses, charitable contributions, and records of your taxes and interest paid.
Review Last Year's Return
Looking over your 2018 tax return is a good way to get a sense of what you will need to file your 2019 tax return. Make sure you have statements for all the accounts and investments you included on last year's return. It will also remind you of any special deductions or credits you may be eligible for. If you're working with a new tax professional this year, providing them with a copy of your 2018 return will make your 2019 return quicker and easier for them. 
Consider Any Changes
While it's helpful to look over last year's return, you also need to take into consideration any changes that have occurred over the past year. Did you add another child to your family? Did one of your children start college? Did you start taking withdrawals from a retirement account? All of these changes need to be reflected on your tax return but won't show up on prior returns.
More than personal changes, there may be changes to federal or state tax law that you should be aware of. The Tax Cuts & Jobs Act tax reform bill of 2017 is still being implemented and the new SECURE Act could also affect your 2019 tax situation. A knowledgeable financial professional can help you understand any tax law changes and how they affect you.
Plan For The Future
While it's important to get your 2019 tax return filed properly, it's just as important to look at the bigger picture of taxes in general. Are you optimizing all of the tools available to you to limit your tax liability? Are there steps you could take now to minimize future taxes? Do you have a plan for your tax refund that will further your overall financial goals?
Taxes are very complicated, so it helps to work with a professional who understands them if you want to maximize the opportunities available. An experienced financial advisor can help you with tax planning in light of your overall goals and financial plan.
If you want to be proactive about tax planning and don't have a trusted advisor yet, I would love to meet you to better understand your situation. Book a free introductory meeting online!
About Preston
Preston Rosamond is a financial advisor and the founder of The Rosamond Financial Group Wealth Management, LLC with nearly two decades of industry experience. He provides comprehensive wealth management and financial services to individuals, professionals, and families who enjoy simplicity and seek a professional to help them pursue their goals. Preston personally serves his clients with an individual touch and a sincere heart, and his servant's attitude is evident from the moment you meet him. Learn more about Preston or start the conversation about your finances with him by emailing smrosamond@rosamondfinancialgroup.com or schedule a call with our online calendar.