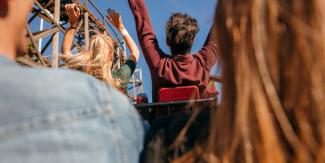 What To Do When The Market Is Up
For the past several years, there have been headlines aplenty all focused on the same thing: the imminent market downturn. And while we have seen some market dips and a return of volatility after the record high growth of 2017, experts are predicting 2018 will end with a growth of 8% for the S&P 500. (1) We may not be witnessing the sizable returns of last year, but the predicted downturn has yet to come. Here's what to do while the market is still strong.
All Highs, No Lows
Despite some crazy drops since January, the S&P 500 is still currently above the 2,800 mark and the Dow is up to 25,000. The following graphs show us that even though volatility is wreaking havoc on our day-to-day returns, long-term the market is still up.
As you can see from the following graphs, the markets are soaring these days.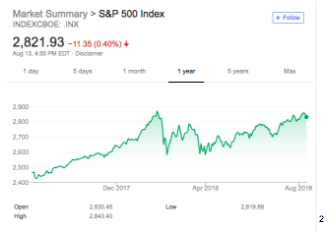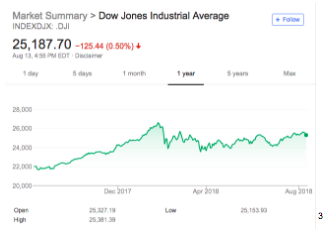 Summer is traditionally a soft season for stocks, yet they continue to trade at or near record highs.
These record highs are what have led to a glut of advice on market downturns. Yes, the markets will slow down eventually, but they haven't yet so store up that advice for the future and focus on what you should be doing right now. What steps should you take when the market is up?
Rebalance Your Portfolio
With the markets performing as they have been lately, chances are your asset allocation has gotten a little off. The high returns that parts of your portfolio are generating are shifting your portfolio off balance, with some investments growing much faster than others.
Though it may seem counterintuitive to sell off your winners, rebalancing is a wise and proven investment strategy. You need to rebalance your portfolio by selling some of your overachievers to purchase underperformers. This will keep your portfolio from having more risk than you are comfortable with. What was once only 10% of your portfolio can easily grow to 20% or 30% in a bull market like this. Readjustments may be necessary.
Don't Get Greedy
Fight the human tendency toward greed. As we've already mentioned, high returns can be enticing. Rushing after them, though, can lead you to a dangerous place!
Make a conscious effort to avoid the hype and stick to your investment plan and corresponding asset allocation. Remember the risk tolerance level that you established for yourself. If you're unsure how much risk you are prepared to take, sit down with your advisor to determine your unique risk level.
Don't let record highs tempt you into making poor decisions. Remember, the investments that shoot up are usually the ones that drop the lowest when the markets do take a turn for the worse. By avoiding greed and rebalancing your portfolio, you will put yourself in the best position in the case of a market downturn.
Be Prepared For A Correction
The pundits are right that the markets will correct themselves. While this will happen eventually, it's impossible to predict the exact timing. It is important to recognize the reality of market cycles and prepare for the inevitable downturn.
Your portfolio isn't the only thing you need to prepare for a bear market, though. You need to prepare yourself mentally. When the market goes up for as long as it has, it's easy to start taking it for granted and expect it to continue. Many people are caught off guard during market corrections and let fear and anxiety take over.
Don't let your emotions get the best of you. As long as you are following sound investment principles, only investing long-term money, and keeping your assets within your risk tolerance, you should have no reason to panic. Yes, things may drop momentarily, but you can keep worry at bay knowing that you are in it for the long haul.
How I Can Help
If you're not feeling as confident as I am, maybe you could use a portfolio review. I can help you create clear financial strategies and find peace of mind despite the ups and downs of the market roller coaster. Call my office at 830-798-9400 or email smrosamond@rosamondfinancialgroup.com to set up your complimentary introductory meeting. I can show you how to take advantage of this great bull market while staying prepared for the next bear market.
About Preston
Preston Rosamond is a financial advisor and the founder of The Rosamond Financial Group Wealth Management, LLC with nearly two decades of industry experience. He provides comprehensive wealth management and financial services to individuals, professionals, and families who enjoy simplicity and seek a professional to help them pursue their goals. Preston personally serves his clients with an individual touch and a sincere heart, and his servant's attitude is evident from the moment you meet him. Learn more about Preston or start the conversation about your finances with him by emailing smrosamond@rosamondfinancialgroup.com.
_______
(1) https://www.cnbc.com/2018/04/10/rbc-cuts-sp-500-forecast-for-2018-as-political-obstacles-for-stocks-pile-up.html
(2) https://www.google.com/search?q=s%26p+500&oq=s%26p+500&aqs=chrome..69i57j0j35i39l2j0l2.4847j0j7&sourceid=chrome&ie=UTF-8
(3) https://www.google.com/search?q=dow+jones+industrial+average&cad=h