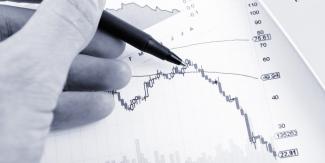 What To Do During Market Volatility
By Preston Rosamond
Few things are more stressful than watching helplessly as your life savings plummet before your eyes. Investing is all fun and games when the numbers are moving in the right direction. But when they aren't, it's horrifying.
Here's the thing. When the market hits a rough patch (which it will!), there is a right way and a wrong way to react. Your behavior directly determines the outcome. Act appropriately, and you can thrive during market volatility. Act inappropriately and, well, you're in for a world of hurt.
Here's how to act appropriately…
Rein In Your Emotions
This is often easier said than done. But controlling your emotions is the first (and arguably most important) step in surviving a volatile market. It's natural to feel scared and anxious. But if you let that fear drive your actions, it will lead to devastating mistakes.
If you feel pressure to "cut your losses," take a second to put things into perspective. You haven't actually lost anything (yet). The only way to lose is to sell out of fear.
Have Faith In History
You're in this for the long term, right? That means it doesn't matter what the market is doing this year or next year. All that matters is how it does between now and the time you retire (and beyond).
Admittedly, it's easy to lose sight of this when the market is taking a dive. So keep reminding yourself: the market is cyclical, what's happening now is just a blip on the radar.
Seize The Opportunity
You might be thinking, "Opportunity? What opportunity? The funds I'm invested in just nosedived!"
But wait a second. Nosedived? You mean the prices of the historically proven funds you're invested in… just went on sale?
This could be a time to take advantage of the "clearance" and invest in them at their new low price.
Be Careful Who You Listen To
When chaos hits the market, people will panic. Lots of people. People you know, trust, and respect. They're going to let their emotions drive their decisions. They're going to "protect themselves." And they're going to tell you to do the same.

Please don't listen. It's going to be hard. You will have to fight your natural instinct. You will wonder if you're making a huge mistake. But I assure you, you aren't.
That being said, you need to make sure you are taking the necessary steps to protect you and your family. Having a professional advisor in your corner will help give you peace knowing your financial decisions are based on knowledgeable advice. If that is something that interests you, we at The Rosamond Financial Group are ready to help. Give my office a call at 830-798-9400 or send an email to smrosamond@rosamondfinancialgroup.com.  
About Preston
Preston Rosamond is a financial advisor and the founder of The Rosamond Financial Group Wealth Management, LLC with nearly two decades of industry experience. He provides comprehensive wealth management and financial services to individuals, professionals, and families who enjoy simplicity and seek a professional to help them pursue their goals. Preston personally serves his clients with an individual touch and a sincere heart, and his servant's attitude is evident from the moment you meet him. Learn more about Preston or start the conversation about your finances with him by emailing smrosamond@rosamondfinancialgroup.com or schedule a call with our online calendar.