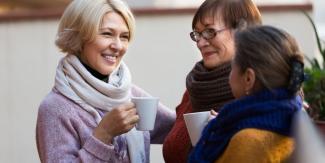 We're Never Too Busy To Help Someone You Care About
By Preston Rosamond
What are the most important things in your life? Family? Health? A sense of purpose? While money may not top that list, it affects every part of your life and can give you the security and stability that positively impacts the things that matter most. But because of its far-reaching impact, managing money often leads to stress and worry. That's why an advisor plays one of the most prominent roles in a person's life, forming a long-lasting relationship and providing objective counsel.  
But how do you find an advisor you can trust and with whom you'll want to work for the long haul? At The Rosamond Financial Group, we understand this can be an overwhelming and intimidating process. Trusting someone with your hard-earned money is not a decision you should take lightly. Knowing this, we are honored to have the opportunity to continue serving more and more families and individuals who conscientiously choose to let us in on their financial journey. 
We place the utmost value on our clients, and we greatly appreciate the opportunity to serve the important people in their lives as well. We gladly welcome the chance to connect and get to know new clients who may benefit from the services we provide. Your referrals are the highest compliment and an integral part of our continued growth.
The Rosamond Difference
We've been fortunate to work with a wide range of clients who refer their colleagues, friends, and family members to us. We believe so many people have referred others to us for a few different reasons:
A personalized real-world approach. We know that no two individuals' financial service needs will be the same, which is why we create a plan focused on your financial goals. We take the time to outline a tailored strategy based on your specific needs, goals, and circumstances. 
Strong relationships. We prioritize a hands-on client-centered approach, which has led us to build long-lasting relationships with so many of our clients. We're proud to serve as a go-to resource and support system when someone faces a tough decision or goes through a life transition.
A long-term commitment. We recognize that financial planning and investing is an ongoing process since life changes happen and investment objectives can shift over time. That's why we provide ongoing guidance and support. Whether it's saving for your children's college education, planning for retirement, or preserving assets for future generations, we seek to provide the financial service resources and ongoing management necessary to help you continuously work toward your goals.
A dedicated team. With a diverse team of experienced professionals who maintain a high-touch and personalized experience, we strive to help our clients simplify complex decisions about their money. With a dedicated team of professionals on your side, we hope you can feel more confident as you navigate life's challenges and planning opportunities.
The People We Serve Best
We at The Rosamond Financial Group desire to partner with you and help carry your financial burden. Because we like to form trusted and close relationships with our clients, we strive to work with people whom we believe we can best serve, from young families and executives to business owners and retirees. While they come from a variety of backgrounds and professions, they want to delegate their financial matters to a professional they can trust so they can simplify and focus on what's important. 
Do You Know Someone Who Could Benefit From Our Services?
One of the reasons we work with a select number of clients is so we can provide personalized attention and care to each of our clients as well as their loved ones—and take these financial matters off their already full plate! When you have questions about your portfolio or strategies, we're here to help. When you experience a new milestone in life, we're here to help. And if you know anyone else who has questions or needs unbiased advice, we're never too busy to help. 
If you're a client with our firm and you've enjoyed working with us, we hope you'll refer a friend, colleague, or family member who may benefit from our services. For a no-obligation consultation, please forward this article to them and point them to our online calendar to book their free introductory meeting!
About Preston
Preston Rosamond is a financial advisor and the founder of The Rosamond Financial Group Wealth Management, LLC with nearly two decades of industry experience. He provides comprehensive wealth management and financial services to individuals, professionals, and families who enjoy simplicity and seek a professional to help them pursue their goals. Preston personally serves his clients with an individual touch, a sincere heart, and his servant's attitude is evident from the moment you meet him. Learn more about Preston or start the conversation about your finances with him by emailing smrosamond@rosamondfinancialgroup.com or schedule a call with our online calendar.