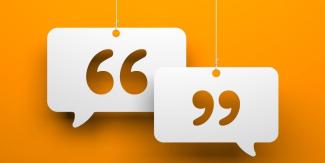 See What Clients Are Saying About Us!
By Preston Rosamond
It's not an easy decision to find a professional you can trust to help you navigate your financial worries and hopes. Whatever it was that propelled you to consider asking for help, we want you to know that we at The Rosamond Financial Group are your advocates. We put you first—always—and strive to guide you toward a strong financial future, tailoring our services to your unique needs. 
But don't just take my word for it. Recently I asked my clients to share their experience working with me. Here's what they had to say.
Your Success Is Our Success
My husband and I first started working with The Rosamond Financial Group when we needed support managing our 401(k). We had always relied on my father for financial advice, but with a changing economy, he suggested we speak with a professional. He sent us straight to Preston Rosamond, and we have never regretted following that recommendation. Preston helped us go from deep financial debt to financial freedom—from being close to losing our home to paying it off entirely. 
The Rosamond Financial Group truly cares about their clients. They are always sweet and understanding no matter how many times I lock myself out of the website! They are always accommodating when scheduling our check-ins, whether they are in person or via Zoom. 
We have 100% confidence in Preston and his team. We are set very well for retirement—something we never thought we'd be able to achieve! When you give The Rosamond Financial Group your financial goals, they will do everything possible to make that happen. We could not be happier with our experience. — Margi 
No Pressure
When BJ's husband died, she knew she needed someone to help her navigate the financial intricacies of her life, someone whom she could count on to educate her and empower her to make her own decisions. 
Listen to her story here: 
Someone to Carry the Burden
When I first decided that I needed a financial advisor, I went with Preston and The Rosamond Financial Group Team. Preston gave me the assurance that I didn't need to think about investments on a day-to-day basis because he would keep me updated every month. The team at The Rosamond Financial Group gives you the confidence to live life today knowing that your finances will be taken care of by a trusted advisor. I've recommended their services to so many friends and family because Preston is someone you can rely on when you need financial guidance. — Sarah
Above & Beyond
As an estate planning lawyer, Brad works with plenty of financial advisors. But according to him, Preston and his dedication, care, and proactive approach makes him a cut above the rest.
Hear more from Brad:
Take the Next Step
Like any small business, we thrive on client testimonials. If you'd like to share your experience with The Rosamond Financial Group—so more people who need our help can find us—please leave us a review on Google or Facebook. We'd greatly appreciate it!
I hope these reviews give you a more personal look at what it's like to work with us. If you're ready to learn more and see if we're a good fit for your financial needs, reach out to us at 830-798-9400 or email smrosamond@rosamondfinancialgroup.com or book a free introductory meeting online!
About Preston
Preston Rosamond is a financial advisor and the founder of The Rosamond Financial Group Wealth Management, LLC with nearly two decades of industry experience. He provides comprehensive wealth management and financial services to individuals, professionals, and families who enjoy simplicity and seek a professional to help them pursue their goals. Preston personally serves his clients with an individual touch, a sincere heart, and his servant's attitude is evident from the moment you meet him. Learn more about Preston or start the conversation about your finances with him by emailing smrosamond@rosamondfinancialgroup.com or schedule a call with our online calendar.