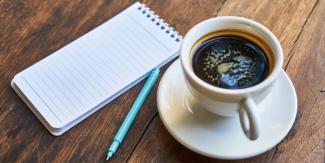 A Second Opinion And A Cup Of Coffee
By Preston Rosamond
A little second-guessing is normal when making decisions, we all know that. But when it comes to your finances, you want to be confident you're on the right path to achieve your goals. But what happens to your goals when life throws you a curveball?
For example, life situations such as a new baby or career change may alter your financial priorities. Or you may be curious about different financial strategies and want to make sure your plan is still the best one for you. Perhaps you are questioning your current investment plan in light of the confusion in the market. That's completely normal, and in order to stay committed to your plan, you need to have complete confidence that it is still working for you and ultimately getting you to where you need to be for your golden years to pan out like you dream. 
If you're nodding your head as you read this, here's what we would like to offer: a cup of coffee and a second opinion.
A Financial Plan Review
Come on in and sit with us for a while, no obligation. During this appointment, we'll help you outline your financial goals and review your current plan, 401(k), investment portfolio, insurance, etc., so we all can see the full picture of where you stand, where you want to be, and ensure we are all on the same page with your objectives.
We can answer any questions you may have about the market, strategies, or basic financial tips and principles. Then we can apply your concerns, ideas, and aims to your current plan to see how everything lines up. 
There's No Harm In Asking
Once we have a solid overview of your finances, we can begin to effectively reevaluate and readjust. If we think your investments/insurance, etc., continue to be well suited to your long-term goals despite the market conditions, we'll gladly tell you so and send you on your way.
On the other hand, if we think your plan is no longer properly aligned with your goals, we'll explain why—in plain English. And, if you'd like, we'll recommend some adjustments. It may even simply be that a few changes are needed based on your age, current economic woes, or a recent change in your priorities and plans. 
It never hurts to take a second look at your financial plan to ensure it is up to date, still applicable to all aspects of your life, and ideally suited to achieve your long-term dreams. Whether your changes are big or small, or no changes at all, you will be able to walk away from your second-look appointment with full confidence in us, in your decisions, and in your financial plan. 
Regardless of the outcome, the coffee is on us!
We at The Rosamond Financial Group can help you evaluate where you are now, determine where you would like to go, and address any gaps that may be apparent. If you are ready to revisit your financial plan, Call my office at 830-798-9400 or email smrosamond@rosamondfinancialgroup.com. 
About Preston
Preston Rosamond is a financial advisor and the founder of The Rosamond Financial Group Wealth Management, LLC with nearly two decades of industry experience. He provides comprehensive wealth management and financial services to individuals, professionals, and families who enjoy simplicity and seek a professional to help them pursue their goals. Preston personally serves his clients with an individual touch and a sincere heart, and his servant's attitude is evident from the moment you meet him. Learn more about Preston or start the conversation about your finances with him by emailing smrosamond@rosamondfinancialgroup.com or schedule a call with our online calendar.