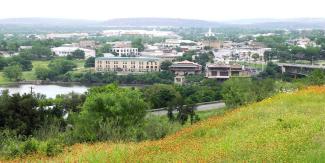 My Favorite Things To Do In Marble Falls, TX
*photo credit to Larry D. Moore CC BY-SA 3.0
By Preston Rosamond
Marble Falls, Texas, is a wonderful place to live and work. This 130-year-old town sits right by the Colorado River and is located in the middle of the Highland Lakes area, the biggest series of lakes in Texas. (1) It never gets too hot or too cold here (with an average summer temperature of 85℉ and an average winter temperature of 55℉), making it easy to enjoy various recreational activities with my family year-round. 
Here are my favorite things to do in Marble Falls, Texas. 
Spending Time At Lake Marble Falls
Lake Marble Falls was first formed in 1951 after the construction of the Max Starcke Dam. It's the fourth and newest lake among the chain of Highland Lakes. (2) With a length of 5.75 miles and as wide as 1,080 feet, many people come here to enjoy boating, drag boat races, and waterskiing. My family and I love to break out our Jet Ski and inner tube for some fun and leisure. Lake Marble Falls is a great place to get away (without driving too far) from the hustle and bustle of daily life. 
Exploring Inks Lake State Park
Visitors to Inks Lake State Park can find amusement by land and by water. On land, available activities include hiking, camping, backpacking, geocaching, volleyball, and observing nature. On the water, visitors can enjoy swimming, boating, water skiing, scuba diving, paddling, and fishing. (3)
When I go to Inks Lake State Park with my family and two Labrador retrievers (named Jet and Casper), we hike together along the different trails for a relaxing experience. 
Enjoying Eats And Drinks At Bear King Brewing Company   
This restaurant's name is inspired by a local legend of the "Bear King," a half-bear, half-human creature that stalked the borders of Marble Falls centuries ago. (4)
Locals come here to enjoy handcrafted beer, hearty food, and live music. The menu comprises appetizers, tacos, burgers, salads, and kids'-menu items such chicken fingers and three-cheese quesadillas. As for alcoholic beverages, they are best known for their blonde ale (known as The Wandering Blonde) and their pale ale (known as The Swiggy). 
When my family visits, we usually order our favorite burgers, enjoy them on the patio, and for the rest of the time, we laugh together while playing board games and corn hole.  
Please Come Visit
As I mentioned earlier, I'm fortunate to live and work in a city like Marble Falls. My family and I can enjoy the great outdoors in our own backyard while enjoying wonderful food and drinks at nearby restaurants. 
Do you have questions regarding other local sights to see in Marble Falls? We at The Rosamond Financial Group would love to help you! Simply book a free consultation with us here or by calling 830-798-9400 and we would be more than happy to assist you
About Preston
Preston Rosamond is a financial advisor and the founder of The Rosamond Financial Group Wealth Management, LLC with nearly two decades of industry experience. He provides comprehensive wealth management and financial services to individuals, professionals, and families who enjoy simplicity and seek a professional to help them pursue their goals. Preston personally serves his clients with an individual touch and a sincere heart, and his servant's attitude is evident from the moment you meet him. Learn more about Preston or start the conversation about your finances with him by emailing smrosamond@rosamondfinancialgroup.com or schedule a call with our online calendar.
__________
(1) https://www.marblefallstx.gov/213/About-Marble-Falls
(2) http://www.highlandlakes.com/lakemarblefalls/index.htm
(3) https://tpwd.texas.gov/state-parks/inks-lake