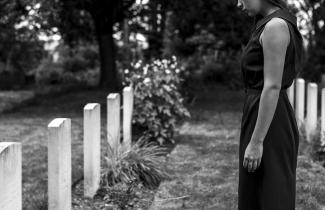 If Widowhood Happened Tomorrow, Would You Be Prepared?
By Preston Rosamond
No one likes to think of the future death of a loved one, but considering the events of this past year, we've all learned we can't take life for granted and being caught unprepared only exacerbates the grief. And considering the difference in life expectancies of men and women, widowhood is a possibility you need to take seriously. 
While there is really no way to prepare emotionally for the loss of a life partner, you can prepare financially. Spending a little time and effort in advance making sure you can answer the following questions will ease the burden if you find yourself in the excruciatingly difficult time of widowhood. So ask yourself, "If I were widowed tomorrow, would I be prepared?"
Is Your Husband's Will In Order?
If your husband doesn't have a will, he needs to draw one up immediately. Without a will, it takes a lot longer to get closure and all the details can get messy in the process. If he does have a will, you need to know where it is and have easy access to it. Also, it would be wise for him to review his will regularly to keep it up to date. 
Are All Important Documents Organized?
In the aftermath of your husband's passing, his will is not the only document you will need. Your marriage certificate, his birth certificate, and his Social Security card will be required to do things like request benefits or change the name on your car titles. Make sure you know where all of this paperwork is located, in addition to automobile titles and property deeds. 
What Benefits Are You Entitled To?
When your husband dies, you will be entitled to Social Security benefits and possibly other assets like pension benefits, life insurance, and annuities. If he's still working, there's a good chance you will be eligible for benefits through his employer which you are unaware of. Have your husband make a list of all the benefits you will receive at his death, and ensure you have the necessary information to claim them.
Do You Have Access To All Financial Account Information?
You probably have a checking account, savings account, retirement, and other investment accounts. When your husband dies, the management of them will fall to you. Therefore, you need a list of every account you have, whether joint or in only one of your names, the type of account, the institution that holds it, and the account number. 
In addition to your assets, you have liabilities, such as debts, insurance, and monthly utilities. Since you don't want to default on your mortgage while you're trying to cope with your husband's death, record the relevant information for these accounts as well, including how and when payments are made. 
Have You Created A Budget?
An important part of developing a plan to move forward alone will involve knowing your current spending needs. If you don't already have a written budget, begin tracking your expenses and create one. It will be an incredible aid when planning for the future.
Do You Have A Trusted Advisor?
Having a strong support system will carry you through the death of your husband and give you the strength to move on. Part of that system should be a trusted financial professional. In many marriages, the husband handles the finances and it is he who has a relationship with the family's financial advisor. Once he is gone, his wife inherits an advisor she neither knows nor trusts. 
It is vital you have someone you trust that you can turn to for help in financial matters. Widowhood is an extremely vulnerable time, and many unscrupulous people prey on widows. Take some time now to get to know your financial advisor and make sure you like working with them. Your peace of mind is of the utmost importance so, if necessary, find another advisor.
How We Can Help
One thing you will not regret is preparing for possible widowhood before it happens. At The Rosamond Financial Group, we aim to arm you with a solid financial foundation and empower and educate you to make decisions that are right for your life. As you prepare for widowhood, we are here to answer any questions you may have. Book a free introductory meeting online to get started!
About Preston
Preston Rosamond is a financial advisor and the founder of The Rosamond Financial Group Wealth Management, LLC with nearly two decades of industry experience. He provides comprehensive wealth management and financial services to individuals, professionals, and families who enjoy simplicity and seek a professional to help them pursue their goals. Preston personally serves his clients with an individual touch and a sincere heart, and his servant's attitude is evident from the moment you meet him. Learn more about Preston or start the conversation about your finances with him by emailing smrosamond@rosamondfinancialgroup.com or schedule a call with our online calendar.