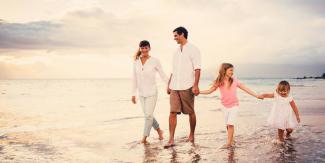 If I Could Teach One Financial Lesson
By Preston Rosamond
When it comes to finances, there's a lot to know and learn. For example, many topics fall under the umbrella of retirement, such as how to save up for retirement, types of retirement accounts, what to invest in, etc. And this is only one sliver of the financial industry that affects your financial well-being. This is why it's important to not get overwhelmed and take one lesson at a time.  
To make it easier to teach you and the rest of the world, I'm breaking down one crucial financial lesson: the best way to go about the habit of spending. 
Spend Less Than You Make
Spending your money is all about the numbers—and numbers do not lie. If you live paycheck-to-paycheck every month, there's no extra money to put toward savings. Every household should have at least 3 to 6 months' worth of savings for emergencies alone. (1) You want to be prepared for any kind of rainy day so that you and your family do not have to weather the storm. The best way to start creating this fund is by adjusting your spending so you're spending less than you make.
For instance, if you are able to decrease your household spending by 10-20%, then you can easily put the excess away into your emergency fund. Start by eating out less and cooking in more or making fewer impulse purchases. 
Don't Get Too Crazy, Though
Life is meant to be fun and full of experiences. Watching your spending does involve some sacrifices in day-to-day living, but funneling all of your extra money toward savings can drain all the joy away from life. Instead, find a balance. Work toward spending less while still making an effort to not miss out on anything significant. 
For instance, instead of deciding not to go to the movie theater anymore, check out Amazon.com to see if you can rent a movie for one flat rate so your whole household can view at a fraction of the price. You don't need to go to extremes with your saving; just get creative. 
Give Some, Save Some 
Taking control of how you spend your money has the power to provide for you and your family's future. It also has the side benefit of allowing you to help others in need when you feel called, such as a friend or relative or donating to charitable causes. To get the best of both worlds, every now and then give some money to someone in need and put the remainder of the money into your savings. Cultivating a consistent habit of spending less and putting some extra money away always leaves room to give to others. 
Please Come Visit
Do you have unanswered questions when it comes to your personal spending habits and how to adjust it to meet your goals? We at The Rosamond Financial Group would love to help you! Simply book a free consultation with us here or by calling 830-798-9400 and we would be more than happy to assist you.
About Preston
Preston Rosamond is a financial advisor and the founder of The Rosamond Financial Group Wealth Management, LLC with nearly two decades of industry experience. He provides comprehensive wealth management and financial services to individuals, professionals, and families who enjoy simplicity and seek a professional to help them pursue their goals. Preston personally serves his clients with an individual touch and a sincere heart, and his servant's attitude is evident from the moment you meet him. Learn more about Preston or start the conversation about your finances with him by emailing smrosamond@rosamondfinancialgroup.com or schedule a call on our online calendar.
____________
(1) https://www.wellsfargo.com/financial-education/basic-finances/manage-money/cashflow-savings/emergencies/