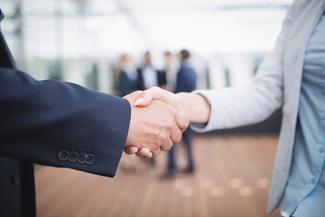 It seems like everywhere you turn, there are commercials, advertisements, and articles urging you to hire a financial advisor. They always talk about how important it is to plan for the future and maximize your returns, but few stop to talk about the process or how advisors are actually paid. At The Rosamond Financial Group, we value transparency and believe that how an advisor is paid is just as important as the services they provide. Here are some details about our fee structure and what you can expect as a potential client. 
The 3-Meeting Approach
Making a decision as important as which financial advisor to hire is never as easy as it sounds, and it can rarely be made confidently in just one meeting. That's why we approach every new client relationship with a 3-meeting mindset.
1. Is It a Good Relational Fit?
In our first meeting, we get to know you as a person and a potential client. We will talk very broadly about your goals for the client-advisor relationship and what style of advising you are looking for. Are you more hands-off or someone who wants to be involved in the day-to-day operations of your financial plan? In this meeting, we'll determine what your general needs are and whether our firm is a good fit to meet those needs.
We specialize in three types of clients; successful business owners, corporate executives, and affluent retirees.  
2. Financial Road Map
If the first meeting goes well, we'll move to the financial road map phase, which includes a more in-depth conversation about your desires and expectations for the relationship. What are your financial goals and concerns? How do you think about money, and what is most important to you? We will help you outline your most important outcomes in alignment with your deepest held values.
At the end of this meeting, we will give you a homework assignment: data-gathering questionnaires and document checklists. Once you've provided your financial documents (income, expenses, insurance policies, investment statements, retirement savings, etc.), we can move to the next meeting. 
3. Basic Wealth Management
After we have reviewed your financial documents, we can put together a basic wealth management plan. We will compile a balance sheet, 5-year cash flow projection, and an analysis on the probability of success. At this point, we'll give an honest assessment of our relational fit. We might say our fee structure doesn't make sense for your current financial resources. If that is the case, we would be happy to refer you to someone we know and trust, or you can keep the basic plan we designed (free of charge) and implement it on your own.
If we determine we are a good relational fit, we will outline all the ways we can work together to implement your goals as well as the associated fees. We are paid based on which services you choose, whether it's financial planning, financial coaching, or investment advice.
We charge a minimum fee for the services we provide. With a concierge-style practice, we only work with 70 client families. This ensures we are providing top-notch service to every client.
Get Started Today
Choosing a financial advisor doesn't have to be a confusing process. With an unbiased and transparent fee structure, we aim to make the decision easy. If you'd like to learn more about our comprehensive wealth management services or find out if we'd be a good relational fit for you, book a free introductory meeting online! And see what clients are saying about working with us.
About Preston
Preston Rosamond is a financial advisor and the founder of The Rosamond Financial Group Wealth Management, LLC with over two decades of industry experience. He provides comprehensive wealth management and financial services to successful business owners, corporate executives, and affluent retirees who enjoy simplicity and seek a professional to help them pursue their goals. Preston personally serves his clients with an individual touch, a sincere heart, and his servant's attitude is evident from the moment you meet him. Learn more about Preston or start the conversation about your finances with him by emailing smrosamond@rosamondfinancialgroup.com or schedule a call on his online calendar.