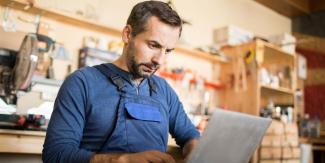 How to Protect Your Largest Asset: Your Business
By Preston Rosamond
As entrepreneurs and business owners, you understand how to work hard, use all resources available to you, and be creative with providing solutions to problems that arise. But are you taking measures to protect what you have worked so hard to build?
You've done the hard part of starting and growing your business, so don't let one of these simple precautions put you in a predicament that jeopardizes your largest asset. Here are 4 tips that, if maintained and implemented, can help protect your business.
1. Don't Mix Business With Personal
Sometimes it may seem like the lines are easily blurred, but whenever doing any business-related activities, it's in your best interest to keep personal matters and accounts separate. Here are a few quick points to verify you aren't combining things that could put you and your business at risk:
Keep bank accounts for all business-related expenses and income separate from personal accounts.
Make sure any property, vehicles, or large assets are under your company name, not you as an individual unless you are currently filing as a sole proprietor or self-employed.
Verify all business proposals, contracts, and emails include your company name; these should be sent with a business address or email account.
2. Obtain Adequate Insurance
Insurance is a product you hope you never have to use, but something all businesses must prioritize to minimize potential financial damage and lawsuits. There are two kinds you need: business insurance and an umbrella policy. 
General business liability insurance protects your assets and alleviates the cost of claims you would have to pay out of pocket otherwise. The cost of these policies varies greatly depending on the amount of coverage you need and the category of risk your industry falls in. For example, someone operating a construction business is going to pay higher premiums than someone who owns a retail store. An umbrella policy adds an extra layer of liability coverage to cover costs that go beyond what your general business liability insurance covers. For costing an average of $500-1,500 per year for a $1 million policy, it's a worthwhile expense. (1)
3. Choose The Correct Business Structure
The business entity you choose to form dictates how much risk you as an individual will be taking on and how accessible your business assets could be subject to a lawsuit, not to mention there is a significant impact on your taxes as well. Those who are sole proprietors will take on the most personal risk since your personal assets are tied to your business. In contrast, limited liability corporations operate as a separate entity so the owner's personal assets are protected against any liability claim or lawsuit. 
If you're not quite sure, review this article for more details and sit down with a trusted advisor who can advise you on which one would be most beneficial for you and your company. (2)
4. Use Secure Passwords
Cybersecurity is a growing concern for many business owners, but a simple way to ensure you don't become a victim of a cyber attack is to use strong, varying passwords. One of the best and most efficient ways to keep track of secure passwords is by using a password bank software, which will automatically generate secure passwords for you and keep them all in one place. The only way to access them is by using a master password, which is the only password you will have to remember. What a relief! Here are a few options for password banks:
LastPass
Dashlane
Sticky Password
RoboForm
1Password (3)
Is Your Business Protected?
Your business is something you've spent countless hours developing, building, and growing. Taking the time to verify the safety of your business will save you time and money in the future.
We at The Rosamond Financial Group can go through a risk assessment of your business and your finances to make sure you are protected. You can book a free introductory meeting online, call my office at 830-798-9400, or email smrosamond@rosamondfinancialgroup.com to discuss the next steps or any questions you have. 
About Preston
Preston Rosamond is a financial advisor and the founder of The Rosamond Financial Group Wealth Management, LLC with nearly two decades of industry experience. He provides comprehensive wealth management and financial services to individuals, professionals, and families who enjoy simplicity and seek a professional to help them pursue their goals. Preston personally serves his clients with an individual touch and a sincere heart, and his servant's attitude is evident from the moment you meet him. Learn more about Preston or start the conversation about your finances with him by emailing smrosamond@rosamondfinancialgroup.com or schedule a call with our online calendar.
___________
(1) https://fitsmallbusiness.com/commercial-umbrella-insurance/
(2) https://www.irs.gov/businesses/small-businesses-self-employed/business-structures
(3) https://www.trusted-software.com/lp/the-10-best-password-manager/?design=table&popup=y&source=gs&adw-cpn=password-c&c=2840&gclid=Cj0KCQiAhojzBRC3ARIsAGtNtHUSpWVAujEqiTjY5ruuJCOUJtqx_csDhYUeJt8WyniBGDIJd9nOP8MaAmRsEALw_wcB