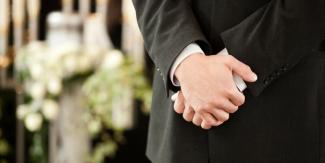 How To Prepare For An Unexpected Death
By Preston Rosamond
When it comes to financial planning, talking about death is oftentimes a very sad and uncomfortable topic to dig into. Think about it. Who wants to imagine their spouse leaving sooner than expected? Nobody!
However, no matter how hard the conversation may be to have, that should not stop it from happening. The reason for this is because a truly comprehensive financial plan must consider and prepare for losing a loved one. It may not happen to every client, but it is a reality for many. There are certain actions you can take today to plan for the unexpected death of yourself, your spouse, or the both of you. To not think this through would be to neglect your spouse, children, and family.
Creating A Plan
Outside of the emotional loss when a loved one passes, the most impacting loss usually has to do with income. Having a plan for making up the lost income from the unexpected death of a spouse is an important aspect of any financial plan that must be thought through. For most, this income can be made up through a combination of life insurance, existing assets, Social Security, and other survivorship benefits. The purpose of creating a plan that takes into consideration all of your resources is to show you whether or not you will be able to maintain the same lifestyle as before, for how long will your resources last, and where gaps might be.
If you look at potential scenarios in advance, you will be able to think through different strategies that could be options in the event of an unexpected death. For example, if you see a gap exist to cover your mortgage, you may want to purchase an additional policy to make sure you are covered.
In addition, it helps to consider your expenses as it relates to your plan. Understanding your fixed and variable expenses will allow you to be flexible in the future if there is a need to downsize your lifestyle.
Creating A Will
A will is an important tool in estate planning, in which you can outline exactly what is to happen to your property, such as investment accounts, real estate, and other personal belongings. In addition, your will dictates guardianship to your children. By creating a will, you are taking control of your most personal and prized possessions in case you pass away. Without a properly documented will, the State decides what happens to everything mentioned above, which usually leads to hardship and undue stress on your family. It is important to note wills can easily be updated and we recommend doing so from time to time, especially throughout different life transitions.
Naming A Power Of Attorney (POA)
There are a few different flavors of a power of attorney (POA). First, there is what is called a financial power of attorney, who, when named, would be designated to handle your financial affairs upon your death (or if you are deemed incompetent to do so yourself). There is also what is called a durable healthcare power of attorney, which would be someone designated to make decisions you cannot make related to your health and well-being. The durable healthcare POA is typically associated with your advanced healthcare directive, which is a living will stating your wishes for medical care.
Organizing Important Information
Another often overlooked part of preparing for an unexpected death is maintaining all of your important information so someone else can retrieve it someday. Oftentimes, one spouse may handle finances, budgeting, etc., which results in the other spouse being out of the loop. This is a major issue if there is no record or system that maintains a list of important parties, log-in information for accounts, expenses and bills, and other critical items.
Some items that may fall within this category include contact information for your estate planning attorney, financial planner, insurance agent, etc., and inventory of legal documents and assets, with details as to their locations. Finally, we recommend using a password manager to securely keep a record of all of your family's banking account information, investment account credentials, digital assets, etc.
What To Do Next?
While thinking about a spouse dying unexpectedly is not something anyone looks forward to, you would be surprised at the sense of peace you will feel when you have all of the boxes checked we discussed above. If you'd like to start a conversation with us at The Rosamond Financial Group to plan for your future, please book a free introductory meeting online, call my office at 830-798-9400, or email smrosamond@rosamondfinancialgroup.com.  
About Preston
Preston Rosamond is a financial advisor and the founder of The Rosamond Financial Group Wealth Management, LLC with nearly two decades of industry experience. He provides comprehensive wealth management and financial services to individuals, professionals, and families who enjoy simplicity and seek a professional to help them pursue their goals. Preston personally serves his clients with an individual touch and a sincere heart, and his servant's attitude is evident from the moment you meet him. Learn more about Preston or start the conversation about your finances with him by emailing smrosamond@rosamondfinancialgroup.com or schedule a call with our online calendar.