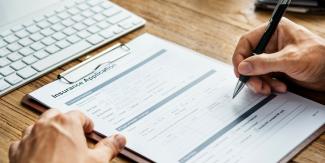 How Much Life Insurance Do You Really Need?
When planning for the future, many people neglect to consider life insurance's role in their financial strategies. In 2017, more than 4 in 10 people didn't own a life insurance policy in any amount and 40% of those who do said they were under-insured. (1)
One probable reason why so many people neglect life insurance (either accidentally or on purpose) is that it can be complicated and is not a one-size-fits-all product. Everything from the type of insurance you obtain to the amount of coverage you receive will depend on your unique situation. While though there's no exact formula, there are a few questions you can answer to help you evaluate your life insurance needs.
Do I Really Need Life Insurance?
The first question you should address is whether or not you even need life insurance in the first place. You'll want to determine if you have enough money saved so that your death would not create a financial hardship for your loved ones. A single young adult with no dependents may not need life insurance if his loved ones can easily afford a funeral and burial. If you have several million dollars safely stored away, your death may not cause a financial hardship either, even if you still have a family depending on you.
If you don't have enough money saved, you should purchase life insurance to protect your family in case you pass away. Even if you do have enough money saved, you may still want to consider purchasing life insurance for other benefits that it can provide, such as living benefits and diversification.
What Type Of Life Insurance is Right For Me?
Along with knowing how much coverage you need, you'll also need to determine the kind of life insurance that is most appropriate for your situation. The two primary types of life insurance are term and permanent.
Term Insurance
Term insurance offers coverage for a specified length of time, which can be anywhere from 10 to 35 years in some cases. The downside to term insurance is that it only covers you for the specified period of time, so if you pass away after the term is over, no money is paid to your beneficiary. But depending on your situation, you may only need insurance for a specific term — until your kids are grown or you have enough money saved to avoid financial hardship. One of the major benefits of term insurance, as opposed to permanent, is that it is usually the most inexpensive out-of-pocket option.
Permanent Insurance
Permanent insurance is coverage that is not limited to a specific duration of time, meaning it can potentially last your entire life. There are several types of permanent insurance, including Universal Life, Indexed Universal Life, and Whole Life. The benefit of permanent insurance is that it can last longer than a term policy so that something will be paid to your beneficiary no matter when you die (assuming your policy has been funded properly). This type of insurance is more expensive than term insurance.
How Much Life Insurance Do I Need?
Finally, the question at the forefront of your mind. You'll want to conduct a Needs Analysis, which can help you understand how much coverage you would need to protect your family adequately. Two of the biggest factors that affect how much insurance you need are your marital status and your financial dependents.
If you're single without anyone — child or parent — depending on you financially, you'll want enough to cover funeral and burial costs. It's also important to have enough to cover debts, because not all debts are discharged in death, such as private student loans.
If you're married, use the DIME method to consider your needs:
Debt and final expenses
Income
Mortgage
Education costs
After calculating and totaling each of those dollar amounts, apply an income replacement multiplier to determine your needed coverage amount. The multiplier varies based on your age and the status of your home mortgage. For example, if you're under 50 years old, you can likely use a multiplier of 20. Older couples may be able to use a multiplier of 10 or 15, depending on the number of years left on their mortgage.
Keep in mind that these are just guidelines designed to give you a general idea of the amount of insurance coverage you need. There may be adjustments for your particular situation and what makes the most sense for your family.
Stay-at-home parents can also benefit from life insurance. While they don't generate income, the services they provide would have to be purchased if they were to pass away. Many stay-at-home parents care for their children, cook, maintain the house, and more, so their spouse needs enough insurance coverage to pay someone else to do the same if they are gone.
How Should I Make a Decision?
Life insurance can be confusing and it's difficult to know if your policy is doing what it's intended and customized to your needs and circumstances. Through an insurance review, I can help you identify risks, such as death, health and disability, and long term care. I can help you calculate the financial impact on you and your family, should one of these risks happen, to ensure everyone is adequately and appropriately protected.
If you are concerned about your life insurance policy or would like to schedule a review or discuss your options, call my office at 830-798-9400 or email smrosamond@rosamondfinancialgroup.com for a complimentary insurance review.  
About Preston
Preston Rosamond is a financial advisor and the founder of The Rosamond Financial Group Wealth Management, LLC with nearly two decades of industry experience. He provides comprehensive wealth management and financial services to individuals, professionals, and families who enjoy simplicity and seek a professional to help them pursue their goals. Preston personally serves his clients with an individual touch and a sincere heart, and his servant's attitude is evident from the moment you meet him. Learn more about Preston or start the conversation about your finances with him by emailing smrosamond@rosamondfinancialgroup.com.
________
(1) https://www.bestliferates.org/blog/2017-life-insurance-statistics-and-facts/