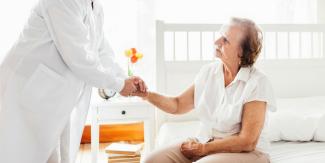 How Much Does Long-Term Care Really Cost in Texas?
The expenses tied to long-term care can be an overwhelming reality for many people. In America, a long-term care crisis persists, and the escalating costs of caring for those who can no longer look after themselves remain largely unaddressed.
The cost of long-term care changes with the specific type of care you need and the geographical location where the services are received. National median costs for long-term care vary, with adult day care services averaging approximately $1,690 per month and a private room in a nursing home averaging around $9,034 per month.
Luckily for Texans, our long-term care costs fall below the national median costs. However, these are still significant costs you and your family need to prepare for.
Cost of Long-Term Care in Texas
The following data shows average costs based on facilities all over Texas, but the actual costs of care may vary in your specific location. Additionally, some long-term care needs can be fulfilled by family and friends, so depending on the support group of the person needing care, these costs may not be necessary for all retirees. 
On the other hand, some old-age illnesses such as Alzheimer's will almost always result in the need for long-term care during the late stages of the disease, despite how supportive or available loved ones are to help. 
No matter what, it's worth considering the need for long-term care costs as part of your retirement plan. The following table shows the median cost of long-term care services in Texas:
| | |
| --- | --- |
| Type of Care | Monthly Median Cost in 2023 |
| Adult Day Health Care | $816 |
| Homemaker Services and/or Home Health Aide | $4,855 |
| Assisted Living Facility | $4,241 |
| Nursing Home: Semi-Private Room | $5,437 |
| Nursing Home: Private Room | $7,524 |
As you can see, costs in Texas are slightly lower than in other areas of the United States. But the expenses are significant nonetheless. Nursing home care, whether in a semi-private or private room, may be well above most people's monthly mortgage payments. 
So how can you build these expenses into your retirement plan if you had planned on mitigating housing costs in the remaining years of your life?
Options to Pay for Long-Term Care
If thinking about paying for these costs on your own feels overwhelming, you have options. The three most common options include:
A stand-alone long-term care insurance policy

Addition of a long-term care rider to a life insurance policy

Long-term care add-on to a fixed or indexed annuity
Stand-alone policies have been decreasing in popularity because the annual premiums can be quite expensive and the policies usually offer no cash benefit to survivors if the benefits aren't used. However, stand-alone policies may be a good option for those who can afford the premiums and are relatively sure they'll need long-term care coverage later in life.
Two better options might be to add long-term care insurance to existing contracts you own. If you have a permanent life insurance policy, many insurers offer an add-on called a long-term care rider. For an additional premium, the rider may come with death benefits. 
And if you own an annuity, you may be able to purchase a similar add-on in which additional amounts would be added to your monthly annuity income if you ever need to pay for long-term care.
Prepare for Your Future With a Trusted Partner
While the future is uncertain, facing long-term care expenses is a genuine possibility that lies ahead for many people. With many options available, it's natural to feel overwhelmed. Each person's situation is unique, and various factors may influence how you incorporate long-term care considerations into your retirement plan.
Rather than navigating this decision alone, consider collaborating with trusted professionals like the team at The Rosamond Financial Group. We can help you understand your choices and make the most informed decision for you and your family.
Take the first step today by scheduling a complimentary introductory meeting online, giving us a call at 830-798-9400 or emailing solutions@rosamondfinancialgroup.com. See what clients are saying about working with us.
About Preston
Preston Rosamond is a financial advisor and the founder of The Rosamond Financial Group Wealth Management, LLC with over two decades of industry experience. He provides comprehensive wealth management and financial services to successful business owners, corporate executives, and affluent retirees who enjoy simplicity and seek a professional to help them pursue their goals. Preston personally serves his clients with an individual touch, a sincere heart, and his servant's attitude is evident from the moment you meet him. Learn more about Preston or start the conversation about your finances with him by emailing solutions@rosamondfinancialgroup.com or schedule a call on his online calendar.