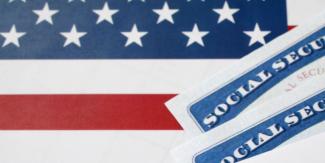 How Could Social Security Affect Your Financial Plan?
By Preston Rosamond
We all know about Social Security, and some of us may have even gone the extra mile to log in to our account and get an estimate of our future benefits. But have you gone even further and looked at your complete retirement picture to figure out how Social Security will affect your future retirement? 
Today, Social Security benefits can make up an average of 40% of a typical retiree's income. (1) That's no small drop in the bucket, which means Social Security benefits and claiming strategies should be an integral part of your financial plan. 
Will Social Security Make an Impact?
Let's look at the numbers. While the average Social Security retirement benefit payment is about $1,543 per month, the maximum benefit at full retirement age for 2021 is $3,011 per month. For those who wait until age 70 to start receiving payments, the maximum monthly payment for 2021 is $3,895. (2)
As Social Security payments increase with cost-of-living adjustments (COLA), the monthly benefit will continue to escalate throughout your retirement. The monthly benefit amounts may not seem like much, but add them up over your life expectancy and it's no small figure. Even if you don't require Social Security payments to live on during retirement, the benefits can be invested or gifted to your heirs. That's why it's vital to plan ahead to maximize your total lifetime benefit and aim to use the asset as part of your overall financial plan.
Crucial Claiming Decisions
There are two critical claiming decisions you need to consider to optimize your total lifetime benefit. First, you'll need to decide when to start receiving benefits. Second, you'll need to determine how to claim spousal benefits to maximize the entire lifetime payments for two spouses.
When to Claim Benefits
Social Security benefits can be claimed anytime between ages 62 and 70. However, the timing of when you choose to collect these benefits will impact the amount of benefit you receive. If you choose or are forced into an early retirement, you can begin receiving Social Security benefits as soon as age 62. However, if you file to receive benefits any time before reaching your full retirement age, you will receive a reduced benefit.
If you wait until you reach full retirement age to begin collecting your Social Security benefits, you will receive your full primary insurance amount, which is the full benefit that you have earned. If you don't need your Social Security benefit at full retirement age, you can delay receiving your benefits. For each year that you delay, your benefit will increase by 8%, for a maximum possible increase of 32%. Your benefit will only increase until you begin receiving it, or until you turn 70, whichever happens first.
Spousal Benefits
Deciding how and when to claim spousal benefits may depend on your overall financial strategy and individual situation. In general, the lower-earning spouse may choose to begin collecting benefits early while the higher-earning spouse plans to wait as long as possible. That way, a couple can make use of the lower benefit while maximizing the higher benefit. 
If the husband has a larger benefit, his spouse may claim first. Because women tend to live longer than men, this strategy can not only maximize the husband's retirement benefit for use while he is alive but also maximize the wife's survivor benefit when he passes away. 
Social Security and Your Retirement Plan
You'll likely rely on a retirement income generated from several different sources, including Social Security, employer-sponsored retirement plans, personal retirement accounts, and other savings and investment programs. It's important to consider each income source and strategize ways to maximize it. 
 At The Rosamond Financial Group, we want you to feel confident and excited about retirement. If you want to see how Social Security impacts your financial plan and determine a claiming strategy that is ideal for you, book a free introductory meeting online!
About Preston
Preston Rosamond is a financial advisor and the founder of The Rosamond Financial Group Wealth Management, LLC with nearly two decades of industry experience. He provides comprehensive wealth management and financial services to individuals, professionals, and families who enjoy simplicity and seek a professional to help them pursue their goals. Preston personally serves his clients with an individual touch, a sincere heart, and his servant's attitude is evident from the moment you meet him. Learn more about Preston or start the conversation about your finances with him by emailing smrosamond@rosamondfinancialgroup.com or schedule a call with our online calendar.
____________
(1) https://www.ssa.gov/benefits/retirement/learn.html
(2) https://www.forbes.com/sites/davidrae/2021/08/24/social-security-basics-what-you-need-to-know-today-in-2021/?sh=62a572b218a4