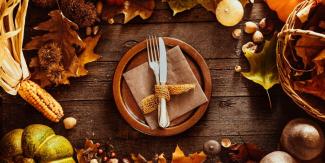 Happy Thanksgiving! A Time To Be Grateful
By Preston Rosamond
Happy Thanksgiving from our team at The Rosamond Financial Group! We want to take a moment to thank you for being a part of our family. We sincerely appreciate the trust you place in our firm. We take our responsibility to you and your family very seriously.
Cultivating Gratitude
It's all too easy to only see the frustrating things in life. It takes intention and shifting our mindset to express thanks instead of complaining. On that note, we are using this Thanksgiving season to cultivate a heart of gratitude and acknowledging the many things for which we are thankful. 
Family
Family probably tops the list for many of us, but in this season especially, I am reminded of how much family means to me and the importance of surrounding yourself with people who know you, love you, and support you. 
Friends
We live in a transient culture where many people change jobs and locations regularly, which can make it difficult to cultivate and maintain friendships. But no matter how busy we are or what life changes come our way, friendships are vital to our well-being. I am incredibly grateful for the community that surrounds me, and I am privileged to count many of my clients as my friends as well. 
Good Health
This is something I definitely don't take for granted. Good health helps us live a high-quality life and allows us to give our time and energy to others and our passions. I feel blessed to have experienced great health this year, as have my family, friends, and colleagues. 
We Are Thankful For You!
All of us at The Rosamond Financial Group truly appreciate the long-lasting relationships we have with each of you as we help you achieve your ideal financial future. We celebrate with you as you reach financial and personal milestones and become empowered to take control of your financial life. We care about your lives and want to minimize the stress and details that often accompany financial decisions so you can focus on all the good in your life. 
We thank you again for choosing us to guide you in your financial life, and we look forward to supporting you and your family in the future!
What are you most thankful for? What successes and blessings has this past year brought for you? We'd love to hear your stories. Reach out to us today at 830-798-9400 or email smrosamond@rosamondfinancialgroup.com.  
About Preston
Preston Rosamond is a financial advisor and the founder of The Rosamond Financial Group Wealth Management, LLC with nearly two decades of industry experience. He provides comprehensive wealth management and financial services to individuals, professionals, and families who enjoy simplicity and seek a professional to help them pursue their goals. Preston personally serves his clients with an individual touch and a sincere heart, and his servant's attitude is evident from the moment you meet him. Learn more about Preston or start the conversation about your finances with him by emailing smrosamond@rosamondfinancialgroup.com or schedule a call with our online calendar.