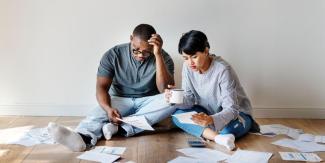 Don't Worry: Your Financial Plan Is Prepared For Volatility
By Preston Rosamond
No one can deny that we are in the thick of things right now. Between a global pandemic, economic worries, and political uncertainty, it's no surprise that we are seeing increased market volatility. All of this uncertainty may be causing you to wonder, "How will this affect me?" or "Will my portfolio recover?"
Your Financial Plan Is Secure
Even though this current volatility came as a surprise to most of us, that doesn't mean we were unprepared. We've been in this record-long bull market for a while and have reaped the benefits of stellar market performance. But what goes up must come down, and the market moves in cycles. What really matters when it comes to your money is how you react to the market cycles.
In other words, we knew that a market downturn was possible and we've positioned your portfolio to be resilient despite the volatility. We adhere to balanced investment strategies that take into account all possibilities. We believe that a well-diversified portfolio designed with your specific time horizon in mind should be able to meet your needs regardless of what the market does in 2020. 
Rely On Us
These are stressful times for all of us, but one thing we don't want you worrying about is your money. If you want to make sure your investment strategies still align with your goals or if anything has changed in your life or plans, The Rosamond Financial Group team would love to chat with you and review your situation. If you have any concerns in this unprecedented time, please do not hesitate to reach out to us. We're here for you. Call my office at 830-798-9400 or email smrosamond@rosamondfinancialgroup.com or book an appointment online. 
About Preston
Preston Rosamond is a financial advisor and the founder of The Rosamond Financial Group Wealth Management, LLC with nearly two decades of industry experience. He provides comprehensive wealth management and financial services to individuals, professionals, and families who enjoy simplicity and seek a professional to help them pursue their goals. Preston personally serves his clients with an individual touch and a sincere heart, and his servant's attitude is evident from the moment you meet him. Learn more about Preston or start the conversation about your finances with him by emailing smrosamond@rosamondfinancialgroup.com or schedule a call with our online calendar.