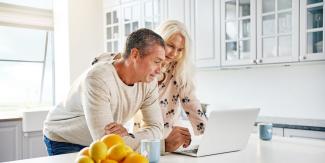 Do Your Friends Or Family Need Financial Help During This Time?
By Preston Rosamond
We are living in unprecedented times, with hourly briefings and updates that cause many of us to lose sleep at night. We get it. Life is going to look very different for a while. But the good news is you have someone on your side who is committed to you, your life, and your finances. No matter what happens, you have us to rely on.
Do your friends and family have this kind of support system?
Guidance In Hard Times
Most of us are now at home with our families day in and day out. We're reminded of the importance of our friendships and other relationships and learning how to be there for each other in creative ways. We know you are not just concerned about yourself, but also your loved ones. 
There is a lot of fear in our world right now, and fear can make people do unwise things with their money. Our goal is to see you and those you care about weather this storm with confidence and come out the other side ready to move forward and work toward your goals. 
If you have friends or family members who are in need of financial guidance during this stressful time, we'd love to be there for them like we are for you, analyzing and evaluating their financial picture and sharing solutions to help them stay on track to reach their goals despite market turmoil and economic uncertainty.
We Are Here For Your Friends And Family…Virtually
We want to let you know that we are still working and operating our business…just not in the same way as before. Just because you may be in self-quarantine or adhering to social distancing guidelines doesn't mean you are alone. 
If you or your loved ones have any questions or concerns about finances, goals, asset allocation, risk, what the markets are doing, or anything that's causing financial stress, we are available virtually. Contact us anytime at 830-798-9400 or smrosamond@rosamondfinancialgroup.com, and let your friends and family members know they can book a free introductory meeting online!
About Preston
Preston Rosamond is a financial advisor and the founder of The Rosamond Financial Group Wealth Management, LLC with nearly two decades of industry experience. He provides comprehensive wealth management and financial services to individuals, professionals, and families who enjoy simplicity and seek a professional to help them pursue their goals. Preston personally serves his clients with an individual touch and a sincere heart, and his servant's attitude is evident from the moment you meet him. Learn more about Preston or start the conversation about your finances with him by emailing smrosamond@rosamondfinancialgroup.com or schedule a call with our online calendar.