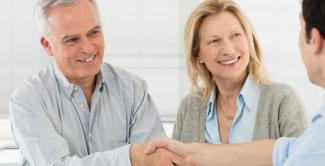 Do Your Friends and Family Need Financial Guidance? We're Here to Help!
Things in our world have become increasingly unstable over the last couple of years. While the economy, political structures, and cultural status quo are always changing, the unprecedented events we've experienced recently are causing many to feel uncertain about the future. While some of these changes may not affect us directly, they will inevitably have an impact on our finances over time. That's why having a solid financial plan is more important now than ever. 
Life will always be unpredictable, but when you work with a trusted financial advisor, you don't have to lose sleep over the news headlines because you know you have a solid financial plan in place—one that can withstand the highs and lows of the economy. As our client, you understand this, but is there someone you know who would also benefit from a partnership like this? Here's how we can help them. 
A Solid Support System
Maybe you haven't been greatly impacted by the events of the past couple of years, at least not financially. That's great! Many people have found new opportunities and even prospered through these challenging times. But even if you're doing well and feel that your finances are stable, it's still important to work with an advisor you can trust who will be part of a solid support system as you navigate your financial plan. Our job at The Rosamond Financial Group is to help you live life to the fullest by assisting you in making wise decisions about your financial plan. When life changes happen or you just have financial questions, you can always count on us. Do your friends, family, and coworkers have this same kind of support system?
A Trusted Professional 
That's why we'd like to remind you that we're here—not just for you, but also for your friends and family. We place the utmost value on our clients, and we greatly appreciate the opportunity to serve the important people in their lives as well. We gladly welcome the chance to connect with and get to know new clients who may need our services. 
We believe the best way to accomplish your goals is to partner with a trusted professional who can create a financial plan tailored to your unique needs and provide goal-oriented advice to help you live your best life.
We're Here to Help
In times of uncertainty such as these, it can be a great relief to know your finances are being monitored by a trusted advisor. We're honored to work with clients like you and want to help even more people who are looking to create a customized financial plan to help them reach their goals. 
When you have found something you know is valuable, you want to share it with others. We hope you feel that way about our services and will tell others about your experience working with The Rosamond Financial Group. 
Call our office at 830-798-9400 or email smrosamond@rosamondfinancialgroup.com with your referral or have them contact us directly. We'd be happy to get them started with a no-obligation conversation about their financial goals. 
About Preston
Preston Rosamond is a financial advisor and the founder of The Rosamond Financial Group Wealth Management, LLC with over two decades of industry experience. He provides comprehensive wealth management and financial services to successful business owners, corporate executives, and affluent retirees who enjoy simplicity and seek a professional to help them pursue their goals. Preston personally serves his clients with an individual touch, a sincere heart, and his servant's attitude is evident from the moment you meet him. Learn more about Preston or start the conversation about your finances with him by emailing smrosamond@rosamondfinancialgroup.com or schedule a call on his online calendar.