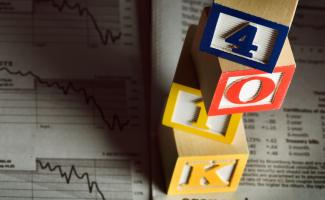 Do You Need Help Consolidating Old 401(k) Accounts?
The average person stays in a job for a mere four years. If you have a 401(k) plan with each employer, you might wonder if consolidating those plans is the right thing to do.
If you have not rolled over accounts with low balances and have several you're not sure what to do with, let's take a look at consolidation options to discover the best approach for your circumstances.
Understanding Your Consolidation Options
Different retirement plans have their own benefits, but also their own set of rules. It's important to first get an understanding of the rollover options available to you, especially if you have 401 (k) accounts. You may or may not be able to roll some types of accounts into others; some accounts only allow rollovers once every 12 months; and some only let you roll over after two years. 
Is Consolidating Right for You?
How do you know if it's time to consolidate? There are a few things you'll want to consider before consolidating multiple retirement accounts.
What kind of benefits and features do your retirement accounts offer?

Are there similar investment options in all your accounts? 

What are the fees like on each of your accounts?

Can you roll over previous plans to a new employer? Or do you need to move to a self-directed retirement account?
You'll want to do your research to answer these questions before you make any moves. And remember, you don't necessarily need to consolidate everything into one. You can merge some while keeping others open. What's best for you will depend on your specific situation and goals for retirement.
Benefits of Consolidating Multiple Retirement Plans
When it comes time for retirement, there are several benefits of consolidating multiple plans into one account. 
Here are just a few benefits to consider:
Reduced investment fees:

Fewer retirement accounts can also mean fewer fees. Instead of paying fees for each of your account management services, you only need to pay one—meaning more of your money can grow.

More opportunities to save:

You can't contribute to an old employer-sponsored 401(k). You need to roll over the account to a new 401(k) or a self-directed account so you can continue contributing to that retirement fund. 

Reduced administrative work for you:

Fewer accounts mean simpler management. You don't need to worry about managing investments and documentation across different platforms. For example, instead of three different monthly statements, you just have one. You can see all your investments in one location for more cohesive planning.

Simpler portfolio rebalancing:

When it comes time to rebalance your portfolio, having all your accounts consolidated makes it easier to calculate your asset allocations.

Easier calculations and withdrawals of required minimum distributions:

If you have multiple 401(k)s at retirement, you will eventually need to take

required minimum distributions

(RMDs) from each of those accounts. When juggling multiple accounts, you risk missing a required minimum distribution or risk withdrawing the incorrect total amount, for which the IRS can make you pay a penalty. Having a single account makes RMDs much easier. 

A clear picture of your money:

Consolidating your accounts allows you to clearly understand how well your investments are working for you while enabling you to easily tweak the account to meet your retirement goals.
Lastly, one of the biggest benefits of consolidation is saving time. Time is one of your most valuable assets. Having one consolidated account means you'll spend less time managing all your accounts and instead spend it doing what you love. 
We Can Help You Consolidate and Maximize
Consolidating can be a complex process, especially with aged accounts. To get started with the process or for 401(k) planning options, call my office at 830-798-9400, email solutions@rosamondfinancialgroup.com, or book a free introductory meeting online!
See what clients are saying about working with us.
About Preston
Preston Rosamond is a financial advisor and the founder of The Rosamond Financial Group Wealth Management, LLC with over two decades of industry experience. He provides comprehensive wealth management and financial services to successful business owners, corporate executives, and affluent retirees who enjoy simplicity and seek a professional to help them pursue their goals. Preston personally serves his clients with an individual touch, a sincere heart, and his servant's attitude is evident from the moment you meet him. Learn more about Preston or start the conversation about your finances with him by emailing solutions@rosamondfinancialgroup.com or schedule a call on his online calendar.