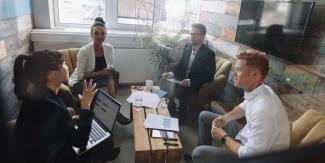 Are You Maximizing Your Company's Benefits Package?
By Preston Rosamond
Among the many ramifications of the COVID-19 pandemic, one major takeaway is a renewed appreciation for a steady income. The cherry on top is if your employer also offers comprehensive benefits, which greatly increases the potential for net gains from your income. Utilizing these benefits effectively can help you either save a small fortune in expenses or gain a fortune through investments. 
Today let's go over some of those benefits—and some you may have overlooked. 
Benefits That Cut Costs
One of the first benefits that employees usually look forward to is health insurance. By taking advantage of your employer's plan, you can save a ton! But have you looked into the possibility of setting up an HSA?
An HSA, or health savings account, is a fantastic way to prepare for unforeseen medical expenses. Money put into an HSA is tax-sheltered, meaning that as long as you use the money you put into it for medical purposes, you don't have to pay taxes on it. Whether it is a deductible for an emergency room visit or a co-pay on your monthly prescriptions, all medical expenses can be paid out of an HSA. 
Even better, an HSA can be set up as an investment account, allowing for the possibility of interest growth within the account. Not only can it be used tax-free for medical expenses, but the earned interest can grow exponentially to further protect you against health expenses in the future. 
You also want to make sure that you take advantage of other insurances that are available, like life insurance or long-term disability or care insurance. As an employee benefit, term life insurance can be dirt cheap and helpful supplemental insurance for your comprehensive insurance coverages. Long-term care insurance is also much less expensive through an employer plan, and especially if you are young and in good health. 
Benefits That Grow Wealth 
The 401(k) has historically been a major factor in wealth building for millions of working people across the country. But if all you have done is set it up and left it alone, you may be missing out on maximizing your retirement savings potential. Be sure to check in on a few details.
First, confirm that you are taking advantage of any 401(k) matching that your company offers. Return on your investment may vary depending on market fluctuation, but taking in any available match is like a guaranteed pay raise. 
Next, verify that you control what kinds of funds your money is invested in inside of your retirement account. Sadly, too often employees are given very little information about what kind of options are available, and money can end up inside a kind of one-size-fits-all fund called a target-date fund. 
Generic target-date funds are usually designed to have a "higher risk, higher reward" attitude in the early years of its inception, and gradually become more risk-averse as the fund gets near to the retirement date of its investors. These types of funds are common, but sometimes not what an educated consumer would choose if they knew all of their options. 
Lastly, one other area that might be worth looking into is if your company has a Roth option for your 401(k). A Roth 401(k) is essentially a post-tax 401(k) that allows you to only pay taxes on your contributions at the time you make them, leaving your growth tax-free when you are ready to retire. The Roth 401(k) has a few different rules you'll want to go over with your wealth management pro, but for many people saving for retirement, it is a fantastic opportunity to protect the growth in your retirement account from taxes. 
Armed With Information 
Even when so much in life is out of our control, remember that knowledge brings power. The most important step to maximize your company's benefits is to get informed about your options! However, this might be easier said than done as many of the available benefits can be confusing to navigate. In fact, sometimes it's tricky to even find out what some of your opportunities are. 
This is when it would be wise to seek the advice of a financial professional. Our team at The Rosamond Financial Group is experienced in comprehensive wealth management and we're ready to help you take full advantage of your benefits. Together we'll thoroughly review your options, discuss your specific goals, and given your unique situation, we can work to get you on the path to financial security.
To learn more about how we can help, reach out by booking a free introductory meeting online or calling my office at 830-798-9400 or email smrosamond@rosamondfinancialgroup.com.
About Preston
Preston Rosamond is a financial advisor and the founder of The Rosamond Financial Group Wealth Management, LLC with nearly two decades of industry experience. He provides comprehensive wealth management and financial services to individuals, professionals, and families who enjoy simplicity and seek a professional to help them pursue their goals. Preston personally serves his clients with an individual touch, a sincere heart, and his servant's attitude is evident from the moment you meet him. Learn more about Preston or start the conversation about your finances with him by emailing smrosamond@rosamondfinancialgroup.com or schedule a call with our online calendar.