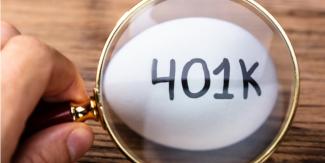 Are You Maximizing Your 401(k)?
By Preston Rosamond
As the saying goes, "Work smarter, not harder." This applies to anything in life, especially retirement. More money saved up in your 401(k) means more freedom to do what you want later on (e.g., travel). While making larger contributions from your paycheck is one way to make a huge impact on the bottom line, there are other simple strategies that can maximize your 401(k) even further when properly put into place. Three of these strategies are listed below.
Always Match Your Employer
Most employer-sponsored 401(k)s include a benefit called "employer matching." Employer matching (1) is when an employer will contribute the same amount of money as you, up to a certain amount. In other words, if you are contributing 3% of your paycheck to your retirement, then your employer may contribute 100% of that same amount. This is all free money for you. Make sure to take advantage of this!
Start Earlier To Compound More
Compound interest (2) is interest accumulated from the initial principal of your portfolio combined with interest from previous periods and contributions. The longer you can hold onto your 401(k), the more compound interest you stand to earn. In other words, it pays to start sooner than later. If you are a ways away from retirement, don't wait. Start as soon as possible to activate the full potential of your compound interest.
Determine Your Level of Risk   
Maximizing your 401(k) means growing your principal AND protecting it. Determining how far away you are from tapping into your funds for retirement will determine your level of risk for growing your money while accommodating for risk when it comes to possible money loss. For instance, if you are 30 to 40 years away from retirement, you can stand to have an aggressive level of risk by investing in high-growth stocks that can recover when given enough time should there be a downturn in the market. If you are about 10 to 20 years away from retirement, you may want to look at stocks that will yield moderate growth. If you are 10 years or less away from retirement, going for conservative and safe investments is advised to minimize risk to your 401(k) funds.
Maximizing your 401(k) is not just about saving, it's about strategy. Making sure certain strategies are in place will not only pay off in a larger principal in the long run, but it will relieve pressure off of you too. Reaching for that dream retirement does not mean you have to watch every single penny. It just means you have to save when you can and know the tricks.
Do you have unanswered questions about saving for retirement? We at The Rosamond Financial Group can help you! Simply book a free consultation with us here and we would be more than happy to assist you.
About Preston
Preston Rosamond is a financial advisor and the founder of The Rosamond Financial Group Wealth Management, LLC with nearly two decades of industry experience. He provides comprehensive wealth management and financial services to individuals, professionals, and families who enjoy the simplicity and seek a professional to help them pursue their goals. Preston personally serves his clients with an individual touch and a sincere heart, and his servant's attitude is evident from the moment you meet him. Learn more about Preston or start the conversation about your finances with him by emailing smrosamond@rosamondfinancialgroup.com or schedule a call with our online calendar.
____________
(1) https://www.investopedia.com/articles/personal-finance/112315/how-401k-matching-works.asp
(2) https://www.investopedia.com/terms/c/compoundinterest.asp