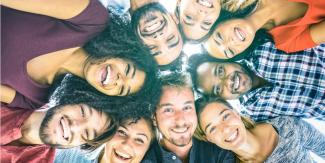 5 Smart Financial Moves for People in Their 20s
There's no debate that financial literacy is key to experiencing financial freedom and success. Unfortunately, these concepts are rarely—if ever—taught in school. Additionally, healthy financial habits are not usually passed down from generation to generation. So, how do you acquire the skills necessary to grow and manage your wealth when you don't know where to start? 
The good news is there are many resources available today that can help you learn on your own. Of course, the younger you start learning and implementing these personal finance habits, the better off you will be in the long run. Here are some financial moves you can make in your 20s that can help set you up for a more successful future. 
1. Manage Your Spending
This is easier said than done, of course. When you're young, it's easy to get caught up with buying the next best thing. You may be starting your first "real" job and have more money than ever before. It's natural to want to spend that money; but if you aren't careful, this can quickly evolve into unhealthy spending habits trying to "keep up with the Joneses" instead of careful financial planning. 
One way to help manage your spending is by creating (and sticking to) a budget. There are many ways to approach budgeting—and just as many apps and resources to help you budget—but the most important aspect is to find what works for you and be consistent. Many of these budgeting tools can also help you account for paying down debt, which is another great way to increase your spending power, allowing you to save and invest more in your future. 
2. Start an Emergency Fund
Once you have learned to manage your spending by creating a budget and paying off debt, you now have more funds to put toward your financial goals. Saving is best done in stages. While you are still working on paying off debt, first start with a mini emergency fund of around $1,000 set aside for unexpected expenses that come up. These funds should be easily accessible so you can use them immediately; a separate savings account at your bank is a great place to keep it. 
Once you have accomplished that step, work toward building a more robust emergency fund that can cover your main living expenses for about 3-6 months. You want these funds to be less accessible, so transferring them to a separate, high-yield savings account, certificate of deposit (CD), or other savings account is advisable. A pro tip is to set up automatic transfers from your checking account into these savings accounts so you're saving without even thinking—and aren't tempted to spend that money instead. 
3. Invest for Retirement
When you're young, it's difficult to imagine your retirement years. Maybe you have a growing family or are trying to make ends meet as you grow professionally. But when you don't start saving early for retirement, you are missing out on free money, especially if you work for a large employer that offers a company match program. 
It's up to you to fully understand and take advantage of your company's benefits, like your 401(k). Other ways to save for retirement include independent retirement accounts (IRAs) such as a Roth IRA, a deferred compensation plan, investing in the stock market, and even real estate investing. Do your homework and talk to a financial advisor to determine the best option for your situation and life stage. 
4. Create a Financial Plan and Adjust it Accordingly
It's important to set aside time in your 20s to plan for the future. This includes not only retirement but all the milestones along the way, such as buying a house, your children's college fund, family vacations, a new car, etc. This may seem like a time-consuming and complex endeavor, but it doesn't need to be. Your financial plan when you are younger can be as simple as creating a budget, sticking to it, and investing in your retirement. 
But don't just create a plan and then forget about it. It's just as important to revisit that plan often and adjust it as your life circumstances or financial goals shift. Your financial plan and wealth management strategy should evolve with you and your family over time. Perhaps you are making a better salary and want to invest more toward your retirement, or maybe you want to invest in real estate. Your financial plan should be fluid to account for life changes. If you feel you need help with creating and managing your plan, speaking with an experienced financial advisor is a smart next step. 
5. Enlist the Help of a Professional
Of course, there are other important steps you can take in your 20s to get ahead financially, but these are a great place to start. While it's important to set financial goals early and start working toward those when you are younger, it's never too late to take control of your wealth management plan. And benefiting from a partnership with a financial advisor is a wise move.
The Rosamond Financial Group is here to help you pursue your goals at whatever stage of life you find yourself—whether you are still in your working years or are already enjoying retirement. To see how we can help you with your financial goals, schedule a free introductory meeting online or reach out to us at 830-798-9400 or email solutions@rosamondfinancialgroup.com. You can also see what clients are saying about working with us. We look forward to hearing from you!
About Preston
Preston Rosamond is a financial advisor and the founder of The Rosamond Financial Group Wealth Management, LLC with over two decades of industry experience. He provides comprehensive wealth management and financial services to successful business owners, corporate executives, and affluent retirees who enjoy simplicity and seek a professional to help them pursue their goals. Preston personally serves his clients with an individual touch, a sincere heart, and his servant's attitude is evident from the moment you meet him. Learn more about Preston or start the conversation about your finances with him by emailing solutions@rosamondfinancialgroup.com or schedule a call on his online calendar.